Photo Booth Hire Brisbane
In the Booth provides studio-quality photo booth hire in Brisbane! Together with our neighbouring teams on the Sunshine Coast, Gold Coast and Toowoomba, we cover the entire South East Queensland corner. Weddings, parties and corporate functions are the perfect opportunity to hire a photobooth. We certainly don't just capture fantastic memories for your guests. More importantly, we bring the kind of old-school entertainment that every celebration needs. Our booths will have every guest up off their chairs and snapping awesome photos!  Not to mention images captured via our iconic Guest Cam have become framed family treasures.
It's been our honour to offer photo booth hire in Brisbane since 2009. Markedly, Brisbane is In the Booth's hometown, a fact of which we're very proud! At the same time our award-winning photo booths have been turning heads for over a decade. Victoria Park Golf, Hillstone St Lucia and many more have been our gracious hosts when we've attended many a celebration. In the Booth are especially honoured to be recommended suppliers at many of our Brisbane function venues. In the Booth make it our business to know instinctively what our clients and venues need. Our staff see it as their goal to strive for celebration perfection, every time!
Indeed Brisbane is the capital city of Queensland. It has a thriving arts and entertainment culture balanced against a laid back feel. In addition, nearby coastal areas offer some of the best beaches in the world an easy hour drive from Brisbane City. Regardless of your purpose for visiting Brisbane, allow some extra time in your schedule to take in the relaxed vibe of our beautiful city!
Meet the Team
Hi, we're Steve and Kate from In the Booth photo booth hire Brisbane!
As well as running In the Booth in its birthplace of Brisbane, we are also the franchisors at In the Booth and are mum and dad to two growing kids (one in particular is growing a bit too much!), Isaac and Cassidy.
Since In the Booth's inception in 2009, we have worked together on building what has become Australia's premium photo booth franchise. Undoubtedly, In the Booth would simply not be what it is today over ten years later without our wonderful family and dedicated franchisees.
When we're not busy with Brisbane photo booth hire, we're a particularly close knit family with a big vision and an unstoppable work ethic. Nothing excites us more than hearing how In the Booth has been the most talked about item at our client's weddings, parties and family celebrations. By the same token, nothing motivates us more than hearing about ways we can improve.
Our award-winning booths have captured priceless memories for In the Booth clients all over the country and we can't wait to capture yours soon.
For any Brisbane photo booth hire enquiries for any event, please get in touch today!
Love for the Booths
Feedback from our clients and guests is so very important to us. Here are some snippets of what some lovely people have had to say...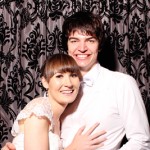 Hi Steve and Kate, we have just received the package in the mail from In the Booth and couldn't be happier! You both provide such a respectable and professional service and we are very impressed!! The guests at our wedding absolutely loved the photo booth (and you can definitely see the evidence from the happy snaps!). It was so popular all night my husband and I had to cut in the line just to get a photo of ourselves on our wedding day! Thank you again for your fantastic service and we will definitely recommend you to our friends and family!
Kate & Richard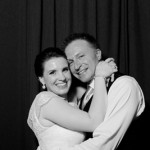 Nige and I want to say thank you so much for the booth you supplied. It was the hit of the night and our guests loved it. As soon as they were let in the room, they were in there quick smart getting photos taken! The photos were wonderful quality and we loved looking through the guest book the day after the wedding. We will treasure these photos forever! The booth was beautiful and fit in very well with the décor of the ballroom. We saw a few booths whilst we were planning the wedding and none of them compared. The booth attendant on the night was lovely and very professional. He was very polite and professional which my husband and I really appreciated. We are so glad we booked with you and would recommend your booth and services to anyone.
Nicole & Nigel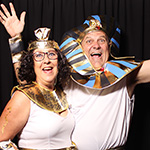 Thank you so much! Dad absolutely loved the booth and he has been loving the pics so far. All our guests loved the booth too and have all been talking about it! It was a wonderful touch to his 60th birthday. Thanks again and thanks to our attendant Brenton also.
Ashleigh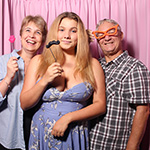 Just a quick note to say thank you so much to In the Booth. The photo booth was a great success with my daughter and her friends on Saturday night. The booth was kept busy all night! Special thanks to our attendant Toby for his patience and good humour, surrounded by noisy and over-excited 16 year olds all night!
Evelyn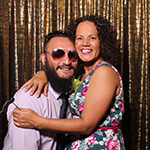 I would like to say thank-you for your services in making my anniversary event special. Everything about the photo booth was wonderful. We received our USB yesterday and I was pleasantly surprised at how professional everything looked. Thank you for the card. If I ever need a photo booth service again you will be the first place I come to. It was worth every dollar. Once again, thank you.
Olivia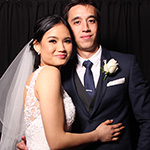 Hi Steve and Kate, thank you for sending the links through for the highlight reel, it looks really great! We have received our nice USB package also. We couldn't be happier with how everything turned out and In the Booth was awesome on our big night! Our guests loved it and we had a lot of good feedback saying the booth was heaps of fun (especially from my parents). 10/10! Thanks again for everything.
Ben & Frances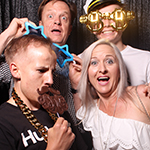 I just want to say a massive thank you to your team for adding that extra bit of fun to my 40th birthday party. Everyone loved the props and the photo booth. The app for guests that prints out pics automatically is a brilliant element and all party goers enjoyed it immensely. These memories are now stored for me to keep for a life time and I am so grateful that we had you there. A huge shout out to Josh. He was an amazing attendant. So patient, full of all information needed, friendly, approachable and just an all round nice guy. Please pass on our gratitude to him. Thank you for being easy to work with and meeting all my expectations. I will be recommending you to everyone!
Bec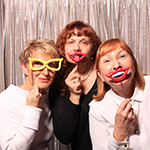 Hi Steve & Kate, I received the digital image folio in the mail today. I just wanted to say thank you SO much for everything. The booth was a massive hit and the attendant was so great in getting us excited and keen to get more and more photos! The folio is also such a massive surprise with such great thought and detail in the packaging, the extras and just the service in general. The quality of the photos is also great and I love that you can get the individual photos in such good quality. I will 100% be booking my next photobooth through you guys for my next event, both for work and for me personally! Thanks again.
Elizabeth, Novo Nordisk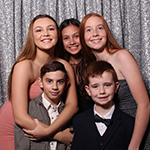 Thank you for your professional service at my daughter's 15th Birthday party. You have been amazing, accommodating and prompt. Lachlan was so lovely and professional. He did everything possible to help our guests. He even offered to help us pack up the party at the end! The booth exceeded our expectations. The photos were very high quality and the booth was impeccable. The props were awesome and having the album for guests to put their photos and write something on was brilliant! I didn't have to think of anything. Best idea ever to have this at the party. In the Booth is also the gift that keeps on giving. The cost of the photo booth was also very good value for money - I highly recommend anyone thinking of booking to just to do it! As they will not be disappointed. Until next time!
Claudia
On the couch with Steve & Kate
What is it you love about providing Brisbane photo booth hire services?
By and large, Brisbane is a growing city with an old town heart and we love the diversity of the venues this brings. From the rolling hills of Sirromet Winery to the history of Customs House and the modern creativity of Cloudland! We're spoilt for choice as we find ourselves delivering photo booth hire at the most incredible Brisbane venues every week. In truth, it is such an amazing thing to be part of. Hearing from the bride and groom about how much the booth contributed to their guests and themselves enjoying their celebration is also a favourite! There is nothing better than contributing to a couple's vision of their day and knowing that we were part of their long dreamt about day coming together.
Tell us about some uniquely Brisbane touches you have seen at an event?
We attended a Star Wars wedding once in a galaxy far far away! To begin with the bridal party were all dressed up as Jedi's and Sith Lords, as were all the guests. Furthermore Leia, Han and Chewy were there, and a Saber Arch guard of honour for the bride and groom to pass under featured as well. It's a close tie with the zombie apocalypse themed wedding which was nothing short of amazing too! While these event themes might not necessarily be unique to Brisbane, they do highlight Brisbanites commitment to seeing their vision come to life in a BIG way. Without a doubt, bringing the fun in the form of photo booth hire to Brisbane events guarantees that we are part of something creative, unexpected and absolutely awesome!
What is the most common question you get asked about the photo booth service you provide?
What we hear the most is probably more of a statement than a question – "wow, it's so big in here!" When it comes to photo boothing, we're firm believers that size does matter. After that, it's all easy because every one of our features are included. For instance, our customers find it a relief there's no choosing from this or that or having to leave things out. Our clients love asking about all the options we have to make the photo booth their own. From backdrops through to print designs, unquestionably every element is important and we love working with our clients to ensure the vision for their event is carried through to the booth. After all, that's where your guests are going to be spending a lot of their time.
What are your essential tips for organising a fantastic event?
It all comes down to details, details, details. Being in the events industry means being obsessive compulsive about details and organisation. In this situation you can never have too many checklists! Get as much ticked off as you can early on in the planning and you will have time for if/when things don't go to plan closer to your event date. Above all, remember the reason for your celebration and stay focused on that. It will make it easier to accept the challenges you're up against that might not turn out exactly as you planned.
When in Brisbane you must…
Go for a stroll around South Bank, see the Gallery of Modern Art, the Museum and the Wheel of Brisbane (Brisbane Eye). Catch a CityCat ferry to Hamilton, visit the Eat Street Markets, and finish your day with a sunset climb of the Story Bridge or take in the city lights from Mount Coot-tha. Check out our Facebook page to see where In the Booth Brisbane will be next and drop by to see us for a sneaky photo booth snap or two!
Popular Spots