Adelaide Photo Booth Hire
In the Booth provides multi award winning boutique photo booth hire in Adelaide and surrounding areas. If you're looking for great entertainment and lasting memories for your wedding, party, corporate function or any other special event, please take a moment to check us out on your 'photo booth hire Adelaide' search!
Photo Booth Hire Adelaide with In the Booth!
In the Booth Adelaide has been in operation since 2011. Our fully enclosed booths took the Adelaide event industry by storm compared to the previously available shopping-centre style booths. We've been regularly awarded in our industry, with thanks to our past customers (make sure you check out our testimonials below!). Consequently we're honoured to be the recommended photo booth supplier to many of Adelaide and South Australia's wedding venues. It's a given that you need experienced suppliers who are familiar with your venue's requirements for your special day. Simply put, we know what works and what doesn't! Our trained staff know how to ensure your guests get the best possible photo booth experience during your event.
Photo Booth Hire Adelaide with In the Booth!
It's our goal to make sure you have nothing to worry about during your event. In other words, there's a time and a place for DIY, and it's important to realise your photo booth hire isn't it!
Adelaide offers the best of the best; the best and most liveable city with the best beaches and a stone's throw away from the best vineyards in South Australia. Likewise, In the Booth has the best photo booths Adelaide has to offer. All things considered, Adelaide is often on the world stage when it comes to entertainment. Seeing that we attend weddings to corporate celebrations, promotions and conferences to birthday parties and school formals, In the Booth Adelaide has the photo booth hire for your next special event. Check out our Facebook page Events to see where we'll be showcasing our wares next – we'd love the opportunity to demonstrate everything the booth can do!
Are you ready to get your undeniably awesome Adelaide party started?! We'd love to receive your enquiry!
Meet the Team
Hi..!  We are Mike and Deb from In the Booth Photo Booth Hire in Adelaide.
To begin with, we're born and bred Adelaidians and are very passionate about our fair city and love what it has to offer. We love how our gorgeous state has a uniqueness and individuality that other states envy!
We've been married for 33 years. Without a doubt the most important people in our lives are our kids Jarred and Jade, our son in law, Sueca and especially our granddaughter, Cintia Grace.
We have always wanted to own our own business but never really found anything that excited us prior to In the Booth. We jumped at the opportunity when it became available and haven't looked back. In the Booth Adelaide have been multiple state winners from 2014 to 2019, inclusive, of the Australian Bridal Industry Academy awards for South Australia, and in the Top 4 Nationally for the last 4 years.
Moreover our favourite thing is to hear amazing feedback from our clients after their event, and love making each boothy moment one to remember! Additionally, you can read our reviews in our client's own words below.
When we aren't boothing we love to travel once in a while, listen to music and spending time with family and friends.
Without further ado, we would love for you and your guests to have a little fun 'In the Booth' at your next event. Enquire now for Adelaide photo booth hire!
Love for the Booths
Feedback from our clients and guests is so very important to us. Here are some snippets of what some lovely people have had to say...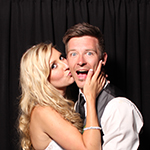 Dear Deb and Mike, thank you so much for all your help with giving us such a great experience with having a photo booth. It was so much fun and the photos are brilliant. Deb did such a good job as host. I would recommend you guys to everyone. To sum up, so impressed with it all, especially the personal touches and USB presentation.
Mr & Mrs Lyne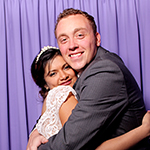 Hi guys, thank you for making our day so special. Everyone loved Michael and In the Booth and I have no qualms in recommending you guys to my friends and family. Out of everything that happened on the night, the photobooth was one of the things everyone raved about! Michael, you were absolutely fantastic, certainly the best attendee we could have hoped for!
Paul & Jessica
Hi Mike and Deb, wow - what can we say!! We can't even begin to thank you enough for everything! What a fabulous night filled with laugher, joy and captured memories! It was an absolute pleasure on Saturday and everyone loved your photo booth. We can't wait to see all the memories from the night! From every email, question and phone call- it's been fantastic. All accordingly topped off by a magnificent host on the night. Our love and thanks a million times over.
Arron & Desiree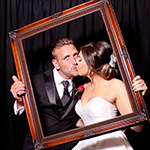 Hi Michael and Debbie, thank you for the amazing job you did at my wedding on the 21st of October at the town hall. Michael, you were our attendant and you were absolutely amazing!!! It's very clear you love your job and that's great. Every one of my guests has said how great you were and how helpful and entertaining you were. Thank you so much for adding your creative spin on our guest book, you did a great job!!!! I will certainly be recommending you to anyone who asks me about photo booths.
Barry & Sioned
Hi Michael and Debbie, thank you so much! I just wanted to say a very big thank you, everyone LOVED the booth and your attendant was amazing, so friendly and helpful, just what you need for a busy wedding!! We won't hesitate to recommend you to friend, family and anyone else!
James & Amanda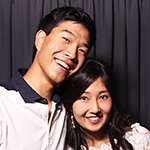 Hi Mike and Deb, thank you so much for the amazing photo booth provided for Edward and Tiffany's reception. It was a huge amount of fun, and we appreciated your professionalism and enthusiasm and encouraging guests to participate. The memory book is fantastic, although I haven't had time to take it all in yet - the afternoon is like a blur to me! My daughter (with no marriage plans on the horizon) has already said she definitely wants a photo booth at her wedding! Many thanks again for adding such an important element to Edward and Tiffany's special day.
Susan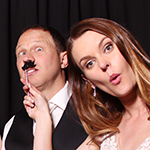 Hi Michael and Deb, I couldn't have been happier with my In the Booth Adelaide experience. From the first enquiry until the day was all said and done, everything was professional and seamless. I will highly recommend to all my family and friends. Thanks so much for helping to make our day so special.
Tamara & Nick
Hi Mike, my husband and I just looked at the beautiful guest book you put together and were so pleasantly surprised. It was so lovely how you put it all together. Very sweet and special to us. We loved it!! Thank you so much for everything....you were so lovely and friendly on the night. And the booth was perfect. Thanks again!
Sasha & Matthew
Thank you so much for everything you did at our wedding! The photo booth was amazing and everyone enjoyed getting in and taking photos! We loved the photo album and the slide show reel that we shared on social media! Rest assured we have given you a glowing review and are so appreciative of your service!
Liana & Scott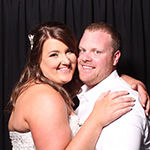 Hi Mike and Deb, thank you so much for the photo booth and making it so much fun. Our guests are raving about how much fun they had in the booth. Deb, you made it fun and got people involved which made it that bit more special. We loved receiving our USB and looking through the photos again. Thank you so much!
Natasha & Joshua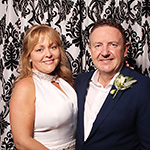 Hi Mike and Deb, you absolute champions! The photo album is the most wonderful keepsake we could ever have hoped for. Thank you so much. We will give you great reviews on every site we can find.
Lynda & Adam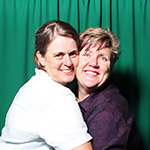 Firstly I just wanted to thank you so much for a wonderful job on Saturday night! Deb was all over everything that was happening and because of this she got some great photos that we weren't expecting, so thank you so much. You guys exceeded our expectations exponentially! Thanks for a wonderful job. Thank you so much again.
Nadia & Lynette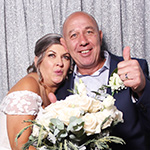 Charlie and I wanted to thank you for your exceptional booth on Saturday night. In the Booth Adelaide added a real fun element to our wedding, which is exactly what we wanted. We have some really amazing memories of our family and friends at our celebration. Our guests have given feedback how great you personally were as well; helping them throughout the night and creating some really great photos. I also appreciated the extra photos you took around the room throughout the night, capturing some fun elements. We didn't need to worry about anything through the night as you ensured everyone was assisted. I really thought the extra encouragement you gave people to have a go in the booth, was fantastic.
Jen & Charlie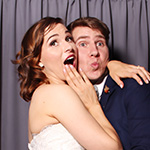 We just wanted to send a quick email to say thank you from the bottom of our hearts. Your passion for your job shines through with everything you do. You worked harder than anyone else, and you were so full of beans the entire day. We have had multiple guests comment on how amazing you were and how thrilled they were to use your services. You were engaging, entertaining, professional and warm hearted.
Lauren & Daniel
A massive thank you for your amazing service at our wedding. We've seriously had so many people tell us how good the booth was and how good the guy running it was. We also absolutely love the book you made too. It's so nice to see people who love their job and take such pride in what they do. We've recommended you to everyone we know getting married soon so hopefully they use you and hopefully we get to see you again some time.
Syd & Kristen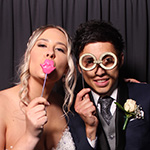 We just received our USB and we can not thank you enough! What a truly amazing thing you have got going on. I can not brag about you guys enough! Everything was amazing, the booth, your energy, the photos, the fact that you took so many photos for us, the quick turnaround to get the photos back, the price, our beautiful card you sent us, our USB box and my favourite of all which I will cherish forever, our beautiful guest book!!! Thank you so much for helping us make our night amazing and unforgettable! My best friend just got engaged so you will be seeing us again and maybe for my 25th birthday or whatever excuse I can use to have you guys again!
Bryan & Zarah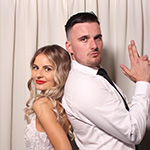 We just wanted to say from the bottom of our hearts thank you so much for everything on our wedding day seeing that you went above and beyond to make it so special for us. We had so many people come up to us and tell us how amazing you were! We've thoroughly enjoyed looking at our book that you made for us and we will love and cherish it for the rest of our lives! It's great that Mike has featured in it also! You are such an incredible person and we couldn't have had anyone better for the job! We love you! The wedding day was perfect. Better than we could ever have imagined. Thank you for everything you did!
Nick & Sarah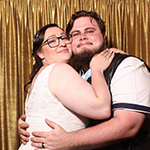 Michael from In the Booth Adelaide was amazing and so are his photo booths. The guests absolutely loved the booth and Michael just felt like part of the family. In the event you are questioning whether or not to get one, these guys will certainly change your mind.
Kimberly & Sam
Hi Debbie and Mike, thank you both for everything you did with the photobooth. You were the only company we looked at - and we couldn't be more happy - you were amazing from the second we met you.
Tim & Nicole
Anthony and I would like to express how blown away we were with the service your business and Lauren provided us. The night was absolutely flawless and Lauren was just amazing with all our guests, particularly the kiddies and those with disabilities. Lauren is an absolute credit to your business! We will definitely be recommending Lauren to as many people as we can! Thank you again for making our night such a memorable experience.
Anthony & Rebecca
On the couch with Mike & Deb
What is it you love about providing Adelaide photo booth hire services?
Without doubt, the best part would be the smiles we create at every single event we attend with our photo booth in Adelaide. Additionally we love the diversity of events we get to attend large and small. Photo booth hire in Adelaide and surrounds is all we do, so concentrating on every detail is our key focus. Equally, the satisfaction we receive from providing a first class service to our clients is our biggest reward.
Tell us about some uniquely Adelaide touches you have seen at an event?
Living near the Barossa Valley we do see a lot of gorgeous events in vineyard settings. Following that, the most eclectic, Adelaidian event that comes to mind though would have to be a horror themed night, set at a particularly old hotel in the city. Our booth was behind a black curtain in a tiny darkened room, and the props included some very chilling masks and costumes. Guests were also in costume which made for an amazing show and the whole night went brilliantly. For these reasons the photo booth was a deadly hit in the Barossa that evening!!
What is the most common question you get asked about the photo booth service you provide?
How many people can you fit in at one time, and does your booth come with props? In contrast to smaller photo booths, we can often fit the whole bridal party in at once, which makes the bride and groom very happy as they can get a great team photo! Your package includes a classic, high quality set of props that everyone loves including glasses, perfect pouty lips and a selection of moustaches' which enhance the classic aesthetic of our photo booths.
What are your essential tips for organising a fantastic event?
In a wedding or engagement sense, it's even more important to personalise the event to reflect the true character and nature of both of you. Whether it is a lavish spectacular at one of Adelaide's premium wedding venues or a simple, home grown experience, make it an expression of love, and something that will remind the guests of you both. Despite the variety of different events we do, it is all about fun, fun, fun!! We have been involved with some incredible functions with In the Booth Adelaide and keep guests entertained all night long!
When in Adelaide you must?
Spend time relaxing and enjoying the sights and sounds of our beautiful city at length, including some delectable eateries. Drive up to Mount Lofty at night in order to view the glistening, panoramic views of the Adelaide environs, it's quite the view! In summer you just can't beat Glenelg, or a paddle boat ride down the River Torrens eventually arriving at the heart of the city. Otherwise, if you've got more time on your hands, a scenic drive to the Barossa is definitely the way to go. Enjoy!!
Popular Spots