Darwin Photo Booth Hire
You've come to the right place for Darwin photo booth hire! In the Booth Darwin has been offering top end style photobooth hire since 2015. No-one celebrates quite like the NT! We've attended beautiful weddings at Mindil Beach and amazing parties at Pee Wee's. Our favourite Guest Cam photos are from the incredible Darwin backdrops nature provides!
Darwin is renowned for its sunsets and laid-back tropical lifestyle. Attending outdoor functions in Darwin is the norm as people enjoy the incredible climate. Meander along the waterfront and take in a movie at the unique deckchair cinema when evening sets in. However if you've got plenty of time to explore the NT, don't miss a trip to Mary River National Park or Litchfield National Park. You're sure to see spectacular vistas and certainly witness some wildlife like nowhere else in the world!
See you boothing in the NT!
Be it for a wedding or gala event under the stars, we're dedicated to offering the best Darwin photo booth hire. Special events require the perfect type of entertainment that is easy to use and appeals to all ages. In short, no guest can resist the timeless magic of a photo booth! Additionally we offer digital experiences for the younger generations and traditional prints to satisfy the young at heart.
Darwin partygoers love to have a good time above all else! Picture your special occasion with a packed dance floor, meanwhile the rest of the gang is living it up in the booth! Your guests are certainly going to be kept busy with so many activities (in addition to the bar of course!). In the Booth Darwin has the experience and attention to detail to ensure your celebration is a huge success. See you boothing in the NT!
Meet the Team
'In the Booth' Darwin has been bringing endless entertainment to weddings, parties and corporate functions in the top end since 2015.
You may have spotted our booths taking in the awesome view at Pee Wee's on the Point or perhaps a gorgeous wedding at the Double Tree Hilton. Regardless of where we end up, the fun is always guaranteed to follow the photo booth!
Seeing that you're considering photo booth hire in Darwin and surrounds, thank you for thinking of us! Rest assured we make it our business to deliver on the promises we make on our website. We hope you have a moment to read through our past customer experiences below in their own words. Through their feedback we hope you'll understand why they chose In the Booth Darwin to help celebrate their once in a lifetime event.
Our studio quality booths easily fit six to eight guests in comfort (often many more!). Our 3/4 body length images mean our booths will capture your wedding gown or your best 1920's costume in full. In the Booth fit in so much more by comparison and there's just some details you can't afford to miss.
If you're planning an event in or around Darwin, please get in touch! To arrange Darwin photo booth hire, send us an enquiry.
Love for the Booths
Feedback from our clients and guests is so very important to us. Here are some snippets of what some lovely people have had to say...
Firstly, I just wanted to say a massive thank you for your professionalism throughout our wedding. The finished product is amazing and I'm very excited to go home from work today and look at all of the funny photos! Above all it is an amazing booth! Thanks again - I'll certainly be recommending you to everyone!
Iain & Zoe Boyle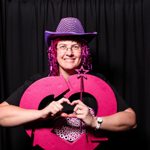 On behalf of all the DonateLife team, I would like to thank you for your fantastic 'In the Booth' stall with us at the Mindil Beach Sunset Markets for the Launch of DonateLife week on Sunday August 2nd. We all had a ball and your wonderful hospitality was very much appreciated. We had a lot of laughs and really enjoyed the evening. To date, our office is now adorned with photos from the booth! Thanks again.
Kathryn McAuliffe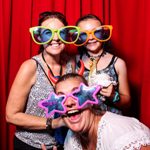 I received the box & card - lovely touches. It was a pleasure meeting you, thank-you. Wishing you the greatest success and joy with your business.
Maureen Heron
Our experience with In the Booth Darwin was PHENOMENAL. The team were amazing from the moment we booked till even after the event. Our awesome attendant Kasia was very friendly and fun. Not your average booth. A very cool app that allowed you to take photos outside the booth and would print them at the booth. Party boy loved the guest book! Everyone LOVED the booth. Amazing QUALITY photos!! Great customer service. Literally the best booth ever - I highly recommend In the Booth!!
Lauren Condran
Where do I start! From the first initial contact with In the Booth was so quick and easy. There were 0 issues through out the whole booking process and set up to get everything all sorted for our conference was a breeze (which was an absolute dream when dealing with a number of different people for different things for our conference). The In the Booth team from Darwin were prompt and on time and didn't need any assistance with set up etc of the photo booths or attendance. It ran so smoothly on the night of our conference dinner and everyone loved being able to get photos taken and printed instantly to keep. Everyone was particularly impressed with the quality of the booth, images and print outs. I will most definitely be considering In the Booth Darwin for any future events!
Ethan French
On the couch with In the Booth Darwin
What is it you love about providing photo booth hire services in Darwin?
The fun and (mis)behaviour in our photo booths matches the Darwin lifestyle perfectly. A little bit cheeky, a little bit mischievous, a lot of personality and a whole lot of fun! The laid back and relaxed vibe of Darwin translates beautifully into the diverse venues we have here, all of which are designed to take in the best views the Northern Territory has to offer, whether they be ocean, rainforest or wetland. Moreover we love celebrating our culture and environment and what better way to do that than by providing photo booth hire to all of Darwin's best events and venues!
Tell us about some uniquely Darwin touches you would love to see at an event?
The quintessentially Darwin touch would have to be a baby crocodile in the booth of course! What a unique prop that would be! Likewise, a private function with a display of Territory reptiles, including a baby crocodile, snakes, and lizards would be amazing! Similarly, watching the sun set over a gloriously red ocean is also a Darwin touch we are already fortunate enough to witness on our photo booth outings so we are already winning, aren't we? :)
What is the most common question you get asked about the photo booth service you provide?
Is all this stuff (person points to the guest book, USB pack, and props) included and do I get an attendant for the night? We are thrilled to be able to reply that yes, our Darwin photo booth hire packages are all inclusive. Additionally, our attendants will be on hand to ensure that your guests and yourselves will have the most amazing photo booth experience ever!
What are your essential tips for organising a fantastic event?
Firstly, just roll with it and have fun! Secondly, having a photo booth at your event is a great way to get your guests to loosen up, and with our awesome attendants there to help it all run smoothly, you won't need to worry about a thing.
When in Darwin you must…
Experience the sunset while wandering around the Mindil Beach Sunset Markets. Also visit Nightcliff Foreshore to take in some of our rich history and get out into the wetlands of Kakadu and Litchfield National Park to witness some of the most wild and breathtaking waterfalls and gorges the world has to offer. Don't forget to watch out for those crocodiles! What's more, grab yourself a cold beer, relax and escape the NT heat by the water.
Popular Spots