In the Booth Photobooths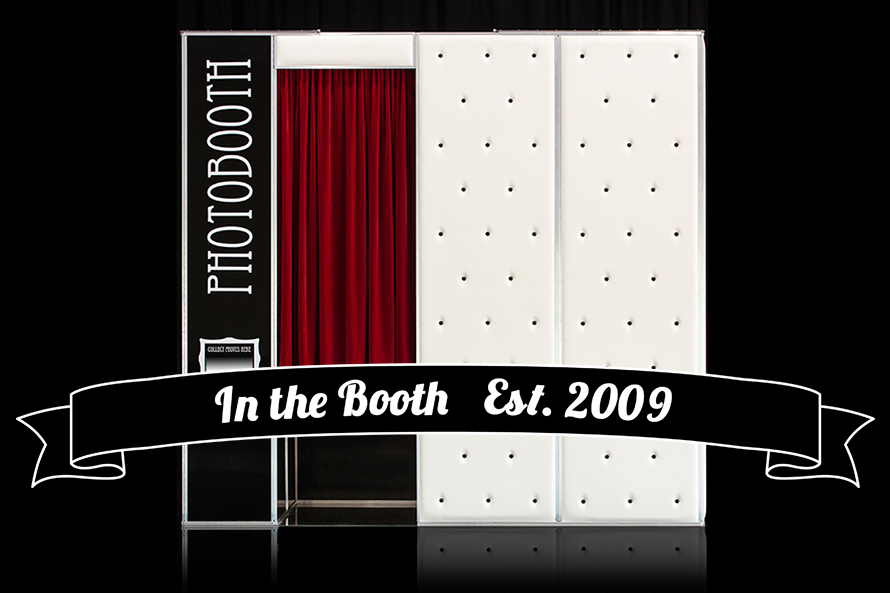 Hire a photo booth, old school style.
Hire a photo booth with In the Booth and you're guaranteed, without a doubt, a solid-walled, enclosed booth! Every booth in our network is identical to the images you see on our website. No confusing options, colours or styles. Just striking, classically styled booths that command attention in any venue.
We're tried and true believers in the magic that's created behind the curtain. An enclosed booth provides privacy for your more reserved guests. Imagine stealing a moment to yourselves as a newly married couple! The privacy of our booths will encourage even your shyest guests to go to town with creativity.
After all, what's photo booth hire without the booth?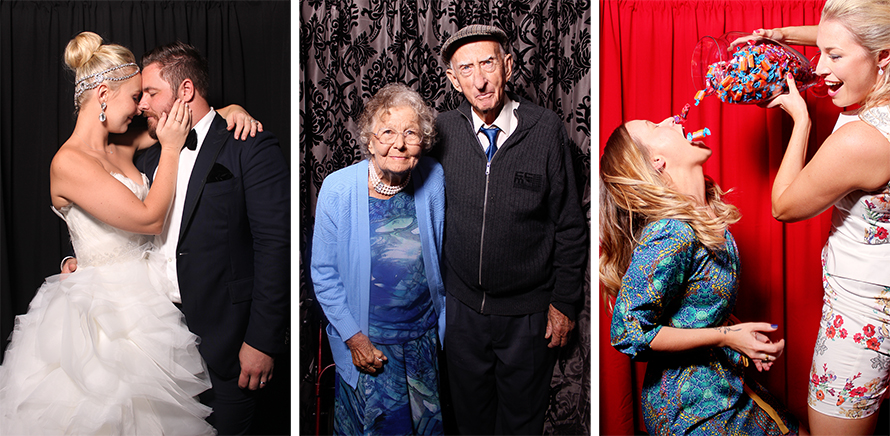 All-inclusive experiences.
We have gone to enormous lengths to ensure there are no weak links when you hire a photo booth from In the Booth.
The stunning physical appearance of our award-winning booths is only rivalled by the quality of images they produce. Our photo booths seamlessly combine a dash of retro style with the latest imaging equipment and software.
Based on our background in the photographic and event industries, we designed our booths around our imaging requirements and not the other way around. In other words, professional digital SLR cameras capture all image and video based experiences – not web cams, low quality digital cameras or iPads. We are proud to stake our reputation on our high quality images thanks to our diffused studio lighting.
Our enclosed booths create a controlled environment which ensures other lighting sources at your venue don't affect the quality of your instant prints. Our booths also double as a mini sound stage so the audio for your video messages can be captured in crisp, high definition. All your images and videos are then provided in our gorgeous USB folio.
With In the Booth, what you see is what you get. No unsightly technical equipment, lighting towers or separate print stations. The booths are strong enough to withstand even the most 'festive' moments! Our gorgeous booths conceal everything they need to operate in one sleek package.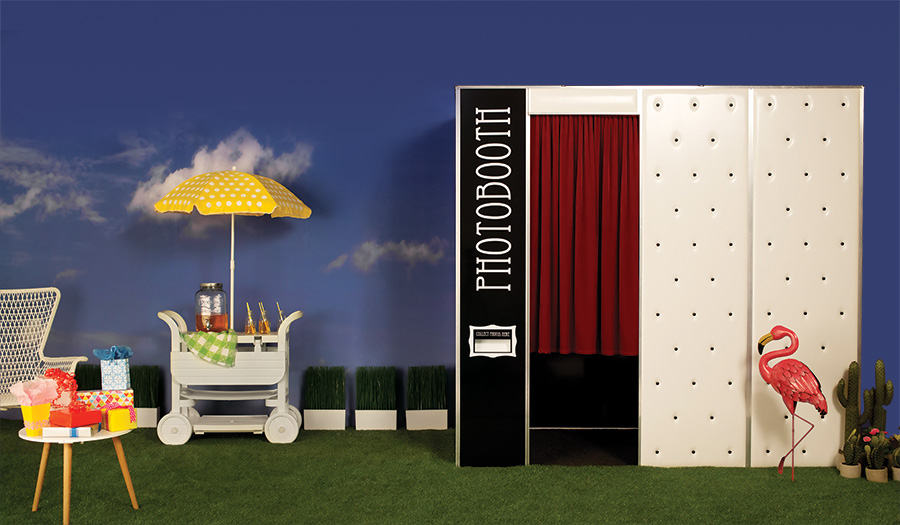 Not all photo booths are created equal.
Two heads don't make a party, right? Our booths can easily accommodate six to eight people in comfort (and often many more!). The generous size of our booths allows us to capture the atmosphere and not just your guests' faces. After all, there are some details you just won't want to miss. Our booths capture full-frame images which, as a result, captures more of the action!
Moreover, we don't believe in using stock images or content. Each and every image on our website are real photographs, from genuine photobooth hire events, taken by our unique booths.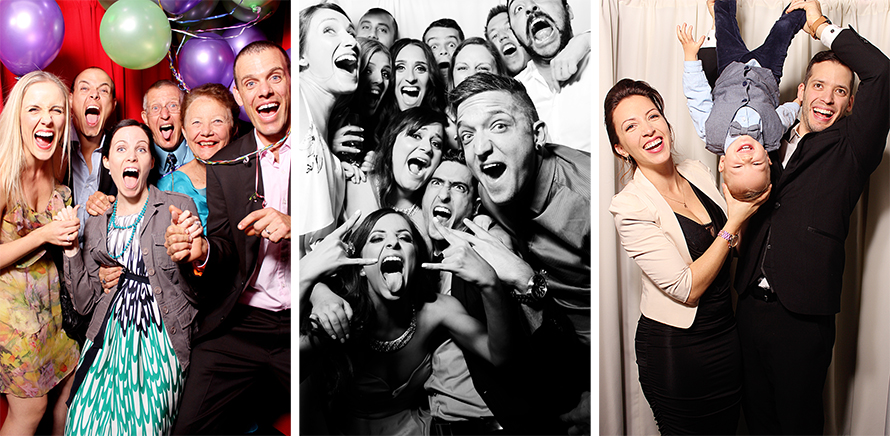 Vintage on the outside, modern on the inside.
The first thing to remember about In the Booth is that our booths only appear as a vintage booth! Rest assured they are very modern on the inside. Prior to designing our booths, we researched the most classically styled vintage booths we could find. We wanted our booths to stand the test of time and look gorgeous for the long term.
We're passionate about the history of photo booths and how they have been entertaining the public since the 1920's. Traditional photo booths used film coupled with chemical developing to create the 'magic' of instant photos. Today we've replaced the chemicals with cutting edge digital technology, such as our exclusive app (we guarantee you won't find another one like it!).
We let our customers speak louder than we do.
"There is not one single other photobooth company out there that compares to In the Booth and this is initially why we booked them. They have amazing extra features like video guestbook and the app to download photo booth photos to your phone. Guests can take photos on their phone and send them to the booth to be printed as Guest Cam photos. As a bonus the staff at In the Booth are very attentive and easy to communicate with. Our attendant Azaria was fantastic and even sought out people throughout the night to give them their photos that they had printed. Several guests have said that they would really like to book In the Booth as a result of seeing them at our wedding and we have gladly passed on their information. Amazing service!" Rebecca
"Our experience with In The Booth from the wedding expo right till the wedding day was nothing short of amazing, professional, helpful and reassuring. We spoke to Nicole mostly via email and she was really efficient in her responses. The best vendor I dealt with throughout our wedding was In the Booth. Everyone had praises for how great the booth was during the wedding! The photos were great, the booth was spacious; not forgetting the special features of Guest Cam, video messages and also saving digital copies of the prints via the app was absolutely a+++++! Definitely go with them, you will not regret it!" Nicola
Have photo booth, will travel.
Our booths offer the uncompromising solution of an enclosed booth which can be setup in just about any venue. For example, we have had our booths set up in lounge rooms, basements, high rise apartments, boats, concert venues and on islands! Stairs, lifts, and corridors are rarely a problem. If you can host a function there, we can get the booth there! All we need is a level surface, access to standard power and shelter from the elements in undesirable weather. To date, there has never been a venue we couldn't get into. In the Booth has photobooth hire locations all over Australia, including Brisbane, Sunshine Coast, Gold Coast, Toowoomba, Mackay, Whitsundays, Townsville, Tweed, Port Macquarie, Sydney, Sydney West, Canberra, Melbourne, Adelaide, Perth , Broome, Darwin and Karratha. To sum up, we love to travel! Please contact us to chat about your requirements for your photobooth hire.