Photobooth Hire in Western Sydney
If you are looking for photobooth hire Sydney, step right up to In the Booth Sydney West! We cover all areas including Blacktown, Penrith, Campbelltown and Richmond at length. We're also frequent travellers to Katoomba, Wollongong and beyond! Our team works closely with our neighbouring franchise in central Sydney to simultaneously cover the entire Sydney region.
Western Sydney is rich with multicultural areas and urban landscapes. With so much culture comes great celebrations of all types. For instance, the Sydney Opera House or the Sydney Harbour Bridge make for undeniably iconic backdrops! Perhaps you've even seen us at a stunning Navarra wedding or even a Bar Mitzvah at Penrith Panthers. As the most awarded photobooth hire service in Sydney, it's been our honour bringing timeless joy to celebrations since 2014.
To begin with, the best way to capture any celebration is with a photo booth so jump in and let your hair down! For this reason we guarantee it will be tricky to get guests out of the photobooth! All in all it's the most addictive form of event entertainment available! In short, your guests will get hooked on 'just one more go' in the booth! For that reason our all-inclusive packages include unlimited photos, Gif, Slo-Mo and video experiences. In addition, our Guest Cam service is only available through In the Booth. Basically, guests can capture roaming photos via our app at your event and they will instantly print from the booth!  To conclude with the best news of all, there's no additional cost for the above experiences – they're all included in our photobooth hire Sydney offering.
Meet the Team
We're Jacob and Louise, and we run 'In the Booth' Western Sydney!
We have two beautiful kids, Vaughan, five and Bronte, three, who keep us very busy and always jump in the booth to get their dimples out whenever they get a chance.
We have been in the photo booth business for the last six years making events of all types that extra bit special while mixing the traditional photobooth feel with top of the line electronics and apps for you to get the most out of your memories of the event.
Whether you're Googling "photobooth hire Sydney" for a wedding, birthday, Christmas party, school formal or a corporate function, we'll help make your function the most talked about event for the ages.
In the Booth is a franchise and we believe that is what gives us the edge over other photo booth companies. Owners around Australia come together often for the purpose of brainstorming new ideas to make sure we give the very best experience!
When we're not boothin' it up, we love to travel and experience everything the world has to offer. We take pride in everything we do. Providing you with a professional service and the best photo booth in Australia, as well as creating a fun atmosphere for all your guests, is exactly what we aim to achieve at every event.
Summing up, we can't wait to meet you and help make your event even more memorable. For Western Sydney photo booth hire please get in touch.
Love for the Booths
Feedback from our clients and guests is so very important to us. Here are some snippets of what some lovely people have had to say...
Hi Jacob and Louise, a massive thank you from the bottom of our hearts for providing such a wonderful service for our wedding!!! It made our reception that much more special and everyone commented on how great our booth was! We loved that it was an actual old school booth but one that was amazingly high end and dressed up soooo nicely! Ahhh it was so great! Our attendant Mitch was fantastic so please reach out to him for us!! He printed the most wonderful photo of us (through Guest Cam) while we were standing in front of our letters and it's one of our favourite photos of the day - he was so great! We will recommend you endlessly to everyone! Looking forward to seeing the pictures =) we loved the sneak peek and our guestbook was of the highest quality! Thank you, again, for contributing to our perfect day!!!!
Michael & Fatima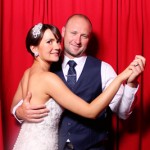 I have nothing but good things to say about you all. In the Booth was by far the easiest and most professional business we dealt with while organising our wedding. It was hassle free from the get go. Your organisation and structure made it such a stress-free process. We knew that we could find a photo booth for our big day at a cheaper price but this is a perfect example of you get what you pay for! Quality from start to finish and worth every cent! Thank you for capturing incredible moments.
Steph & Ken
Thank you so much for your generous donation to the Dyspraxia Foundation of Australia's Winter wonderland ball. We all enjoyed your booth and captured some great memories. Thank you again so much.
Lauren Clapham, Dyspraxia Foundation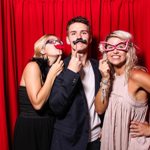 Good morning, I just wanted to say a BIG thank you for making our New Year's Eve party a big success. Our booth attendant was absolutely amazing. Very attentive, very professional and nothing was a problem. Everyone commented on how lovely she was. We will be sure to recommend you guys to anyone who needs a booth in the future.
Brolton Group
Hi Jacob and Louise, thanks so much for such a wonderful service. Everyone loved the booth and the Guest Cam was totally awesome! I will definitely be using you guys for any future photo booth needs and recommend to friends and family! Thank again.
Leanne
I just wanted to thank you so much! I have left a review on your Facebook page. Rick was amazing, everything was perfect. The video is beautiful. Thank you so so much!!
Melissa & Daniel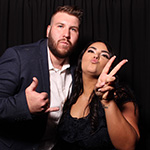 Firstly, I just wanted to thank you all so very much - the photo booth was a hit at our engagement party and our attendant was more than wonderful. We will be using you again for our wedding if that is okay!
Michael & Marissa
On the couch with Jacob & Louise
What is it you love about providing photo booth hire services in Western Sydney?
We love the reaction of boothers when they walk out of the photo booth to collect their photos. As the prints drop down, seeing some of the expressions and reactions is priceless; a personal favourite is when they think they blinked for every photo only to find out that they were bright eyed for the camera leaving them feeling quite proud of themselves. For our brides and grooms, the photo booth is a way of stepping back from a full on day and spending a few precious moments by themselves which we love to capture for them.
Tell us about some uniquely Western Sydney touches you have seen at an event?
It is always special when you see couples getting married, but in particular when the backdrop of their wedding is the Blue Mountains and the valleys, it adds a touch of beauty that imprints in your mind forever. With the photo booth in the forefront and the mountains at your feet, it feels like you're on top of the world. In similar fashion, at a wedding we attended, the bride and groom did away with the traditional entrance to their reception and chose to greet each and every guest as they entered. It was so lovely!
What is the most common question you get asked about the photo booth service you provide?
We always get asked "Do you provide props?" We supply a range of very high quality props that can add that extra edge on your already awesome photo booth experience. In addition, we're super aware of hygiene so our team has a strict cleaning process between events. Props are awesome, but only if they're clean and beautifully displayed to begin with!
What are your essential tips for organising a fantastic event?
First of all, make sure you enjoy yourself. If you're organising an event, we're sure it's because you want everyone to have a good time including yourself. Being stressed is contagious, just like being happy is too. If you're reading this you have shown some interest in photobooth hire Sydney for your special event. We would love to add to the happiness and fun of your event with our amazing photo booth.
When in Western Sydney you must…
Definitely take time to explore. Western Sydney is rich with culture and heritage. As one example, the Hawkesbury has some of the earliest settled suburbs in Australia. Liverpool, Fairfield and Cabramatta have some of the most amazing food available. Summing up if you're after some adventure, Penrith at the foothills of the Blue Mountains and Campbelltown have what you're after! Cycling, hiking, water sports, skydiving and hot air ballooning just to name a few are all at your doorstep.
Popular Spots