The 'In the Booth' App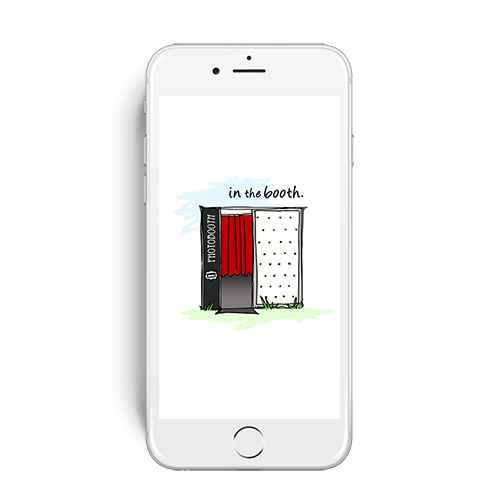 In the Booth offers unlimited download of high resolution photo booth experiences for your guests via our free app! Along with your photobooth for hire, your guests want digital copies of their photo booth antics for safe keeping and social media stardom. You can tick this off your list as we've got you covered with In the Booth's unique app.
So how does the app work?
Guests can download our free app from the App Store or Google Play and have immediate access to all their boothing awesomeness. Not only do they receive their hard copy prints from the booth, they will also have the digi-copies safely stored on their device. Guests can download their photo booth experiences whenever they please and no one will be chasing you post-celebration for digital copies of their photos, videos, Gifs or Slo-Mo. Win-win!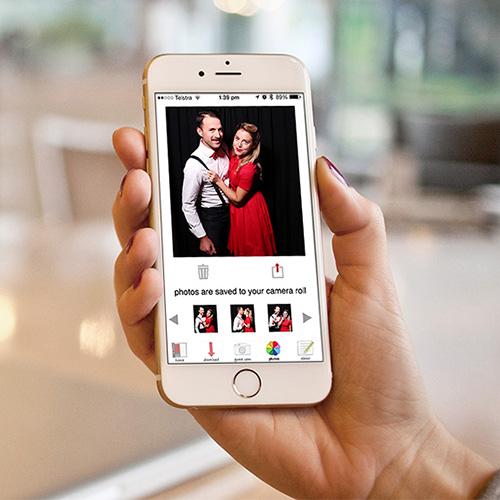 We're socially savvy.
Our app isn't social media choosy so whether your guests are Instagrammers, Facebookers, Tweeters or your mum just wants a copy of a photo to send to Aunty Peg, we've got them covered. There'll be no cries of 'I can't remember my password' or 'I don't have Instagram!' Instead there'll be uncontrollable excitement as high resolution booth experiences magically arrive on your guests' device – no hashtag required. Better still, if your event is being held off the beaten track (aka internet will be sketchy) your guests can simply download their photobooth for hire fun once they're back in civilisation. We take your guests' privacy seriously which is why experiences can only be downloaded via the unique code on each instant print.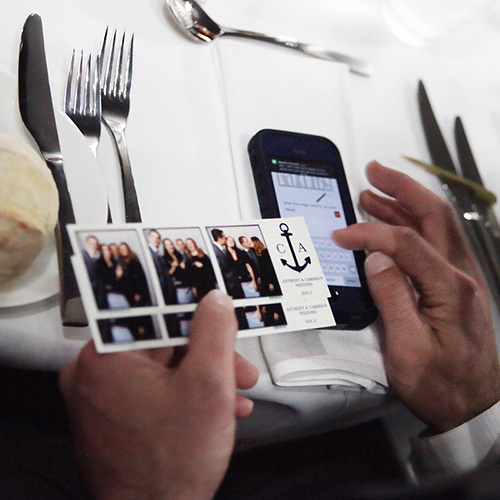 So…my guests can download all their photo booth experiences via the app?
You betcha! Every photobooth for hire experience we offer (photos, video messages, Gif and Slo-Mo) can be instantly downloaded by your guests via the app. The app seamlessly combines printed and digital experiences so your guests have the best of both worlds. Our app is also home to our infamous Guest Cam service! Guest Cam allows your guests to capture photos on their device from around your event and they'll print out of the booth too – just like magic.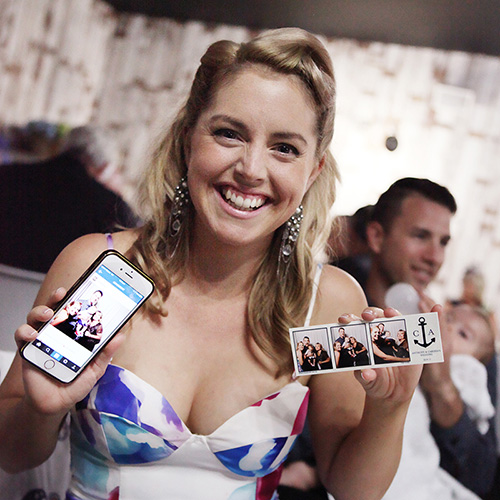 How is this different to other image sharing services?
In the Booth's app has been custom designed for what we do – there's not another one like it. Most photo booth companies offering image sharing use off-the-shelf software that require your guests to enter their private details after each booth session. Others use a separate media station for guests to search for and share their booth images. Some will offer a Facebook album or online gallery your guests log into afterwards to find their photos. In the Booth will not ask your guests for their phone number or email address; nor make you wait for an online gallery or offer low quality copies from our Facebook page. Our unique app puts privacy, quality (and more time in the booth!) in your guests' hands.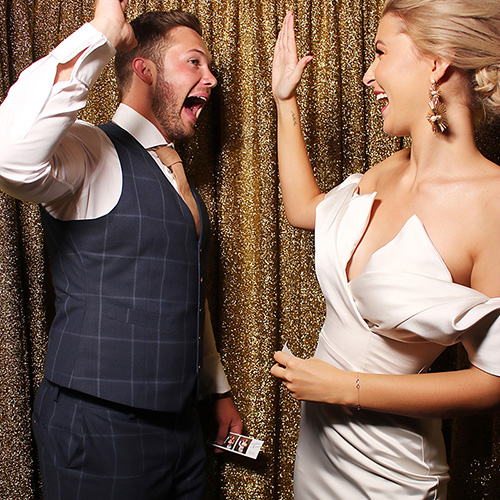 Can we see a demo?
Of course you can! First things first: you'll need to download the free app via the IOS App Store or Google Play. This sweet little video will also step you through downloading our app and the main features.
Righto, I've got the app. What's next?
Awesome. Open the app, touch on 'download' and now you just need some experience codes to enter. Here's some we prepared earlier!
Photo strip: F3V676NJ
Video message: 3V5G89DG
Gif: F8J79VE2
Slo-Mo: E3VE56J9