Photo Booth Hire in Canberra
In the Booth has been supplying Photo Booth hire in Canberra since 2013. In the Booth Canberra's goal is to provide the highest quality service and exceed your expectations in every way! We love attending weddings, birthday parties and corporate functions throughout Canberra. We also love to travel and often head out to Goulburn, Cooma and Jervis Bay. Canberra is a major hub for western New South Wales and the South Coast region. It's not only our nation's capital – it's a hot spot for all types of events! Canberra likes to celebrate in style, be it a wedding, 21st birthday or staff Christmas party. What better way to break the ice oat any event than with photo booth hire Canberra!
In the Booth Canberra has been the centre of attention at hundreds of events over the years. Subsequently we've captured wedding memories at countless Canberra reception venues and Grade 12 formals at the Hyatt Hotel Canberra.
Our booths stand out from the crowd due to their striking good looks! In the Booth photo booths have been specially designed for the event industry. No unsightly power cords or print stations. Everything your guests need for their photobooth experience is concealed in one gorgeous package. In the Booth Canberra sets itself apart by offering all experiences in one stunning booth. No choosing from a booth that prints or a social media station or Gif booth. With us, your guests can have it all! They'll be boothing up a storm in no time capturing photos, video messages and adding photo booth prints to your guest book. When they finally make it back to their table, they'll be snapping away via our app with our unique Guest Cam too! You'll have more photo booth action on your USB than you can poke a stick at.
Meet the Team
In the Booth has had the privilege of attending countless weddings, parties and corporate events throughout Canberra and surrounding areas since 2013.
We love the joy and excitement our beautiful photo booths bring to any celebration, and creating treasured memories for our clients and guests.
If you are thinking of having a Canberra photo booth at your coming event, whatever that may be, we would love to work with you to ensure a fantastic experience for everyone involved. Contact us today!
Love for the Booths
Feedback from our clients and guests is so very important to us. Here are some snippets of what some lovely people have had to say...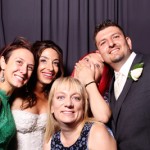 Thank you!! The service and products received from In the Booth have been amazing! All the little things like your email with the links of photos to the package delivered to my door step. Your staff were awesome on the night and I have to say that you guys actually made my wedding better by being there. I have been recommending you to everyone. I am really glad I picked you guys.
Paula and Chris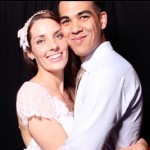 We received the digital image folio earlier last week, thanks so much – we had a great time flicking through it all! We filled out our feedback with ABIA noting that we couldn't have been happier with anything, especially your work on the night! Thanks again for everything.
Luke & Soph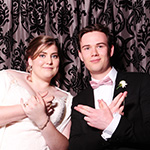 I wanted to say a huge thank you to Geoff for all of his efforts and for being such a wonderful host! My family, friends and I can't speak highly enough for his service. He was so professional and made sure we had a wonderful evening whilst being jovial and so friendly. Thank you so much for helping us on our special night!
Katie & Mitch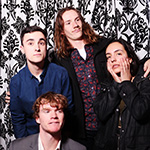 We just had to send you guys an email today to say an enormous thank you. Having the wonderful Geoff and the inspiring photo booth at Nick's 21st made for a memorable night full of laughter and joy. All of our guests fully embraced the 'In the Booth' experience, and the fun and spontaneity it provokes! Geoff was such a pleasure to deal with - polite and patient with every single person he dealt with during the night. He explained the various processes in a clear and pleasant manner. Thank you too to you Nicole for handling our booking in such a pleasant and professional manner. You have communicated clearly and efficiently with us throughout the whole process. We will certainly be recommending In the Booth Canberra to anyone who asks!
Jenni & John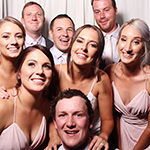 We wanted to say a massive thank you to your company and the attendant who ran the photobooth at our wedding at Lake Crackenback. We could not have been happier with the whole experience leading up to, and on the night of the wedding. The attendant who ran the booth was very professional yet approachable and friendly on the night, we really can't thank him enough! We could not recommend your company enough. Thanks a million!
Cassondra & Wade
I just wanted to say a big thank you to Geoff (our photo booth attendant) who made our night really fun and entertaining. The guests loved the booth and Geoff's positive energy and enthusiasm. I'll be hiring you guys again for sure!! Thanks so much, the booth exceeded our expectations!
Rebecca
On the couch with In the Booth Canberra
What is it you love about providing photo booth hire in Canberra?
Though a major city, Canberra is within easy reach of a lot of coastal and inland townships. The major attraction for me in providing photo booth hire experiences in Canberra is the sheer variety of venues and locations. From small country towns such as Tumut and larger ones such as Goulburn we have also supplied photo booth hire services to schools, private and corporate functions on the beautiful NSW South Coast.
Tell us about some uniquely Canberran touches you have seen at an event?
Canberra has a strong local pride which is encouraged and actively developed by our territory government. It is also growing at an extremely fast rate with new suburbs popping up everywhere. In true Canberran community spirit, the most unique experience I have had with photo booth hire was at a community Dogs Picnic Day. It was certainly interesting as it was my first encounter assisting pets (along with their owners) during the photo booth experience!
What is the most common question you get asked about the photo booth service you provide
Without a doubt, the most commonly asked question is 'what's the most number of people you've had in the booth?'. Unlike the old arcade booths, our photo booth is generous in size which makes the whole photo booth hire experience something very special.
What are your essential tips for organising a fantastic event?
Look after the kids (both big and small; young and old). Guests come to these functions, weddings, parties and even corporate events such as Open Days at the universities to have fun. A well placed photo booth not only provides great fun but enhances the experience with lasting memories.
When in Canberra you must…
Most people see Canberra as the War Memorial or Parliament House. Every month sees something special happen in Canberra from the sight of dozens of hot air balloons to the most comprehensive multicultural food fair you will ever see. And don't forget to visit the local wineries; not just great wines but also fantastic restaurants.
Popular Spots