Backdrops & Entrance Curtains
Hire photo booth vs hire backdrop
While you're Googling "hire photo booth", keep in mind you're also going to need the perfect backdrop to go with it! In the Booth offers a stunning range of backdrops for you to choose from to match the theme and styling of your event. Your backdrop can be selected via your online booth portal upon confirmation of your booking.
We have specifically chosen our backdrops to ensure image excellence. Your photo booth backdrop plays a huge part in your image quality. Poorly chosen backdrops sadly often result in low image quality. Reflective surfaces, no matter how pretty, don't sit well with studio flash! Stringent image tests are carried out on all In the Booth backdrops prior to being made available to our customers. Some photo booth providers will encourage you to hire photo booth backdrops separately. However, this often requires additional coordination and expense. With In the Booth, your all-inclusive package includes your backdrop hire as well.
They're called backdrops for a reason!
We are tried and true believers that your guests are the stars of the show. A classically styled backdrop puts your guests on centre stage and is less likely to date. Remember, just because something is 'on trend' in 2020 doesn't mean it will be when your grandkids are looking through your photo booth photos! We ensure your images will stand the test of time by sticking close to our vintage photo booth roots. Your backdrop will couple perfectly with your photo booth print design giving you a cohesive result.
Drop by our Instagram to see how our past customers and their guests make their backdrops come to life!
Please note: Styles may vary in your area.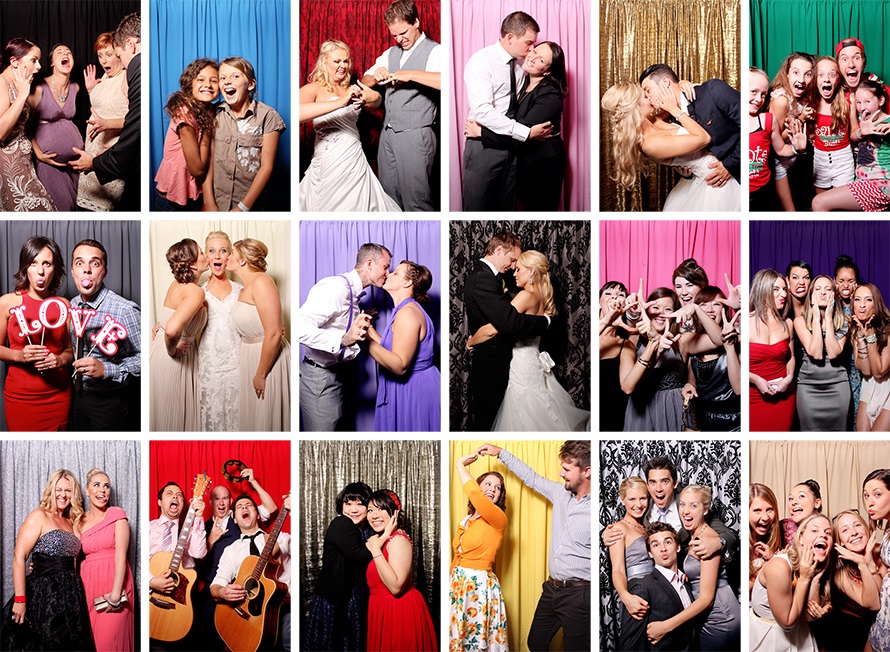 At last it's time to draw that curtain closed! Our entry curtains play an important part in those few precious and private moments in the booth. Undoubtedly, our theatre quality velvet adds that touch of luxury to your booth entry curtains. Choose from our gorgeous traditional red or keep your booth looking sleek and monochrome with classic black. Summing up, whichever option you choose, your photo booth will make a striking display in your event space that no guest will be able to resist.