Photo Booth Hire Sydney Central & Sydney South
Photo Booth hire Sydney will never be the same with In the Booth Sydney South! Together with our neighbouring team on the western side of the city, In the Booth provides complete coverage for Sydney photo booth hire for weddings, parties and social events. We regularly attend events in the Central Sydney area, but often travel to Wollongong, Newcastle and beyond! Perhaps you've been a guest at a gorgeous Dockside wedding or a corporate function at Taronga Zoo.
Photo booths are an essential ingredient to any successful Sydney event! We will give your celebration the professional polish our Sydney friends have come to expect. With today's digital society, excellent images and digital content are essential. In the Booth Sydney South takes the pressure off the party host. In short, with a photo booth present, guests will be lining up to snap memories of the event. Photos, video, Gif and Slo-Mo experiences will keep party-goers entertained all night. Better yet, every experience is available for instant download to their phone! No privacy issues, no low quality Facebook galleries and no passwords to remember. In the Booth Sydney South puts print and digital memories directly into your guests' hands! At the same time our instant prints make the perfect keepsake. In any case digital copies means memories won't be misplaced.
Sydney wedding and event venues expect nothing but the best for their customers. Above all, In the Booth Sydney South has the expertise to create a first class photo booth experience for your guests. We are familiar with many of Sydney's finest venues and their set up requirements. From the location of your photo booth to the photo booth guest book, In the Booth has it covered. We will liaise with your venue coordinator to ensure every detail for your celebration is perfect!
Meet the Team
Hi there, we're Syl & CJ (and Maddox!)…..
We manage and run 'In the Booth' Sydney South. We work very closely with Sydney West to ensure that all of Sydney's vast territory – as well as Wollongong and Newcastle – is well serviced for their Photo Booth needs!
We're unashamedly Photo Booth addicts ourselves, a healthy obsession that began at our own wedding in 2014.  That's where we learned that Sydney-siders, more than any other group, seem to really let go once they step 'In the Booth', and that's when we see tears of laughter roll down the cheeks of 19 to 90 years olds a like.
We are passionate about events and parties with almost a decade of experience doing events large and small all over the country. Be it huge 350+ people weddings at iconic Sydney venues like Doltone House, Sergeants Mess or Luna Park… to private affairs in our clients' homes, photo booth hire Sydney, In the Booth style, always goes off with a bang!
We've worked on some of Australia's largest festivals over the years, but it's the small, intimate weddings and parties that we truly love the most.
When we're not booth'n it up, you'll find Syl taking our dog Penny for a swim at the beach, and CJ watching whatever sport he can find and both of us continually chasing after our little boother Maddox.
If "photo booth hire Sydney" is your current Google search, don't hesitate to drop us a line. We look forward to hearing from you!
Love for the Booths
Feedback from our clients and guests is so very important to us. Here are some snippets of what some lovely people have had to say...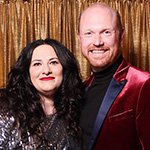 We decided to have a photo booth at my husband's birthday party and chose In the Booth. I am so so happy we did! One of the reasons I chose In the Booth was because of the additional features like the Guest Cam, however we got so much more than just additional features! Booking was easy. Payment was easy. Setting up our details, preferences and choices was easy. On the day of the event, CJ was wonderful! Not only was he punctual, but so so friendly, and immediately offered assistance in anything - even if it wasn't photo booth related. He spoke to guests to get them to all jump in and get their photo taken. Thanks to CJ and In the Booth, we have wonderful memories with great service right from booking to final delivery. I can't wait to host another event so I can have them out again!
Tamara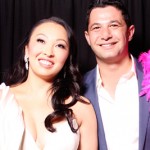 I just wanted to say a HUGE thank you for our photo booth at our wedding on Sunday. The booth set up looked amazing in the foyer at Sergeants Mess and all of our guests loved it. They had such a great time. A special thank you to Qasim. He was such a lovely guy and very accommodating to us and our guests. It is definitely a credit to your business when you have fabulous staff working for you. I definitely chose the right photo booth for our wedding. You guys are without a doubt a cut above your competitors. The size, quality and design is well worth the money. Thanks again!
Aleesha & Paul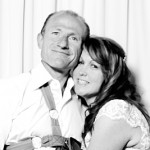 We had a fantastic time and the booth was an absolute hit. The highlights reel is fabulous and I've already shared it on Facebook with everyone loving it. I have liked your Facebook page and left a review but I'm also sending a reply to personally provide the positive feedback and to thank yourself and Jack, the attendant, for an amazing event. Jack arrived on time and was an absolute pleasure to deal with. He set the booth up superbly, made sure everyone's experience in the booth was fun and smooth, and had a smile on his face the entire time. So I have to say the booth was a highlight and everyone had so much fun. I would thoroughly recommend having an In the Booth photo booth at any event and we are still getting joy from the album of photos and now the highlights reel. Thanks so much.
Kerrie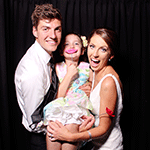 In the Booth Team, from the bottom of our hearts thank you so much for helping us have and create the most magical and memorable wedding possible. Our guests absolutely loved the booth space, props and the fantastic Mustafa. Mustafa went above and beyond to provide a professional yet laid back experience, allowing our guests to really let their hair down. Like I said previously, he is an asset to the company. Syl and CJ, your communication has always been prompt, warm and a pleasure. The actual booth print outs are also of the highest quality. We absolutely loved our In the Booth experience and will definitely be recommending our family and friends use this awesome experience. Thank you again!
Blaire & Gerard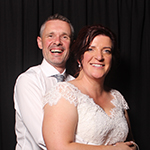 We're so glad we decided to book In the Booth Sydney South for our wedding. SO MUCH FUN! The team were nice and very easy to work with on the booking details. On the night, the booth looked amazing and it was in use from the start right up until the end. CJ was there as our booth attendant and he was super friendly and helpful. Everyone loved it. Afterwards, we had such a good time and lots of laughs checking out all the pics. The slideshow was brilliant and we were really impressed by the quality of the images when the USB arrived. Thanks team, the booth was a highlight of the night and definitely worth it!
Jason & Rochelle
To the entire In the Booth team, I cannot thank you enough. From the very moment I decided to go with you for my wedding I was overly excited for the next twelve months because who doesn't love a good photo booth! I can happily say your product exceeded mine and my guests' expectations. Our attendant Jack was fun and energetic as he engaged with every guest. The pictures came out beautifully and I loved the added touch of the attendant taking photos of the important parts of the night on Guest Cam - that was a really fantastic surprise! I cannot wait to pick up my USB with the photos and videos. I will be recommending you to everyone I know and will definitely be using you again!
Jessica & Gary
We just wanted to say a big thank you to CJ and In the Booth Sydney South for making our special day extra special! CJ did an amazing job and we got a lot of comments on how great he was as well as the booth. The photos look amazing, are great quality and we like that everyone could take a little bit of the night away with them in photo form. So thank you again and we look forward to going through all our pics soon!
Jason & Stacey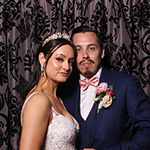 Just want to say a big thank you for being a part of our wedding. We knew that of the most important vendors to lock in for a wedding, a photobooth is up there and when we came across In the Booth Sydney South it was a pretty easy choice to make. I have never seen such incredible image quality from a photobooth before, not to mention the easily accessible app that allows you to download your photos from the booth directly to your phone was a massive hit at the wedding. It was the easiest process in booking and getting everything done, without ever feeling like I was being "sold" to. I could not recommend you guys enough!
Jake & Melody
On the couch with CJ & Syl
What is it you love about providing photo booth hire services in Sydney?
When it comes down to it we're just "people people", and seeing others enjoying a special day, be it a wedding or birthday or Christmas party, is always a lot of fun. Plus, EVERYONE has fun "in the booth"... so there is never a dull moment! We first experienced photo booth hire Sydney at our own wedding and have been nurturing that love affair ever since (yes, we mean the photo booths AND each other :)
Tell us about some uniquely Sydney touches you have seen at an event?
Sydney is famous for a lot of things, but probably none more than the beauty of Sydney Harbour. Some of Sydney's gorgeous venues that we are fortunate enough to visit often have a front row seat to the stunning harbour backdrop - Luna Park, Athol Hall, Taronga Zoo, Pier One, The Kirribilli Club in Sydney, or Panorama House and the Headlands Hotel in Wollongong just to name a few. When you mix that with a great party or celebration, then you certainly do get a uniquely "Sydney" event. And that's what we love; the atmosphere that the mix of the Sydney people, the Sydney landscape and our wonderful booths create.
What is the most common question you get asked about the photo booth service you provide?
Mainly two things; Our technology & our service. Being one of Australia's leading Photo Booth companies we provide an unmatched service of quality and reliability. Our unique "Guest Cam" service (allowing photos to be taken via mobile phone and sent directly to the booth for printing) has been an amazing addition for our guests! That, AND the ability to instantly upload your photo booth photos to social media always gets people talking. But perhaps more often than that we receive comments on our service, right from the time of booking with our incredible staff at head office, all the way to the delivery of your photos after your event - every care is taken to make your special day even more special.
What are your essential tips for organising a fantastic event?
Planning, planning, and then a little more planning! The devil is in the details, and with more than 10 years in the events industry we've learnt a thing or two about getting the little things right. Good communication is key, and that is something we pride ourselves on.
When in Sydney you must…
Get outside! Sydney is a city designed around the great outdoors, which is a reason we also do outside weddings and events. In the past Sydney South has had events on boats in the Harbour, at the Opera House, the Sydney Town Hall, the Botanical Gardens, Cockatoo Island, Sydney Olympic Park, Skyscrapers overlooking Circular Quay, and Casinos overlooking Darling Harbour. It's known as one of the world's most beautiful cities for a reason, so get out there and enjoy it!
Popular Spots