Broome Photo Booth Hire
Thanks for dropping by to check out In the Booth for photo booth hire Broome! If you're hosting an event in Broome, photobooth hire should definitely be on the list! Broome's spectacular natural environment and tropical climate provide the perfect backdrop. Whether it is a Cable Beach wedding, birthday party or corporate function, In the Booth Broome will keep the party going all night long! We love to travel so we can also look after your photo booth hire in Derby, Port Hedland, Karratha and even out to Kununurra. We'd love to hear your plans for your Broome event!
If you've chosen Broome as the backdrop for your wedding, we can't blame you! We're Broome locals so we're very family with local haunts such as Sun Pictures and the picturesque Cable Beach Club. Imagine awesome Guest Cam images from your event with the unbeatable Western Australia sunset as the photo background. A trip to Broome is hardly complete without a sunset camel ride along Cable Beach! Or if time on the water is more your style, book a leisurely cruise on the Kimberley. The Purnululu National Park is home to the Bungle Bungle range if you have more time up your sleeve. Book a scenic flight over the Bungles or visit the incredible Cathedral Falls.
It's been a pleasure to have been offering photo booth hire Broome since 2012. We're proud to be WA's most awarded photo booth hire company. Our all-inclusive packages ensure you don't have to worry about a thing. Colour and black and white photos will print at the touch of a button. Your guests will enjoy digital experiences such as Gif and Slo-Mo which can be instantly downloaded via our free app. Finally relax, unwind and enjoy your Broome celebration to the fullest!
Meet the Team
G'day, and welcome to our beautiful North West corner of Australia.
We love the Broome lifestyle and are excited to support our local community and provide Australia's premier photobooth hire service in our unique and beautiful Pearl Coast region.
Whilst it can be challenging to find unique and quality entertainment options in our remote location, that's certainly not the case with In the Booth.
If you're looking for a fantastic photobooth experience for your wedding, party or any other special event across the Kimberly Coast, please get in touch.
Love for the Booths
Feedback from our clients and guests is so very important to us. Here are some snippets of what some lovely people have had to say...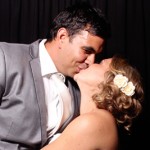 Thank you very much for the wonderful job you did at our special day! We have received our digital image folio and we love it! Our guests and friends love the highlights reel that we shared on Facebook and have made so many positive comments about how awesome the photobooth was. I am sure you will get plenty of recommendations from our wedding guests (as well as us!). Our day was magic, and thanks to you, many of the memorable moments where captured. Thanks again for the fantastic memories.
Ty and Shay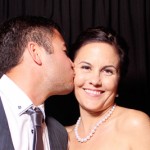 We all had an absolute ball with In the Booth, Brad and I are so happy we did it!! What a great last minute decision! Thanks for your great service and for making our wedding even more special.
Brad and Tracy
On the couch with In the Booth Broome
What is it you love about providing photo booth hire in Broome?
We may be biased, but we reckon there's nothing quite like a wedding with a view of a Cable Beach sunset. The colour of the Indian Ocean combined with the pinks and oranges as the sun dips into the sea is unrivaled. Our tropical lifestyle fits the events scene in Broome perfectly!
Tell us about some uniquely Broome touches you have seen at an event?
Everything in Broome is unique so it is not hard to for that to translate into the events held here. A Marquee on the lawn at The Cable Club Resort & Spa will have you feeling like you are the only people in the world, while dining under the stunning canopy of trees at The Billi will add that perfect touch of tropical elegance. It doesn't come much better than that!
What is the most common question you get asked about photo booth hire in Broome?
We often get asked, 'Do you travel?' To which our answer is 'absolutely!'. With so much gorgeous countryside and many exceptional venues surrounding us, we love nothing more that getting out and about with our photo booths. We love a good adventure, and exploring with our fully portable booths is as much fun for us as it is for you :)
What are your essential tips for organising a fantastic event?
Apart from hiring one of our incredibly stylish photo booths? Remember to take a breath and savour the moment. Without a doubt, you will have spent many hours planning your perfect event. When the moment arrives, take a look around and remind yourself of what you are celebrating. Anything that may go awry will seem less of a disappointment in the scheme of what you are there to enjoy!
When in Broome you must… ?
Take the time to savour the slower pace of life. Enjoy long walks along Cable Beach or a spectacular sunset camel tour. Take a tour into the wilderness of the Kimberley – it will quite literally leave you breathless! Take in the history of our local pearl farming industry or visit our local brewery. There are so many things to see and do in Broome, but doing nothing at all is one of the very best choices you could make too!
Popular Spots