Photo Booth Prints Displayed to Perfection
On 1 Nov | '2018
It's common to feel a bit flat after your special event is done and dusted! After all, you've spent many months and hours planning your celebration so it will feel like you've got some time back on your hands! Keeping the memories alive is what it's all about what better way to be reminded of your special day that by your photo booth prints? We've got some great display ideas to get your prints out of storage and on display where they belong!
How To Display Your Photo Booth Prints, Perfectly!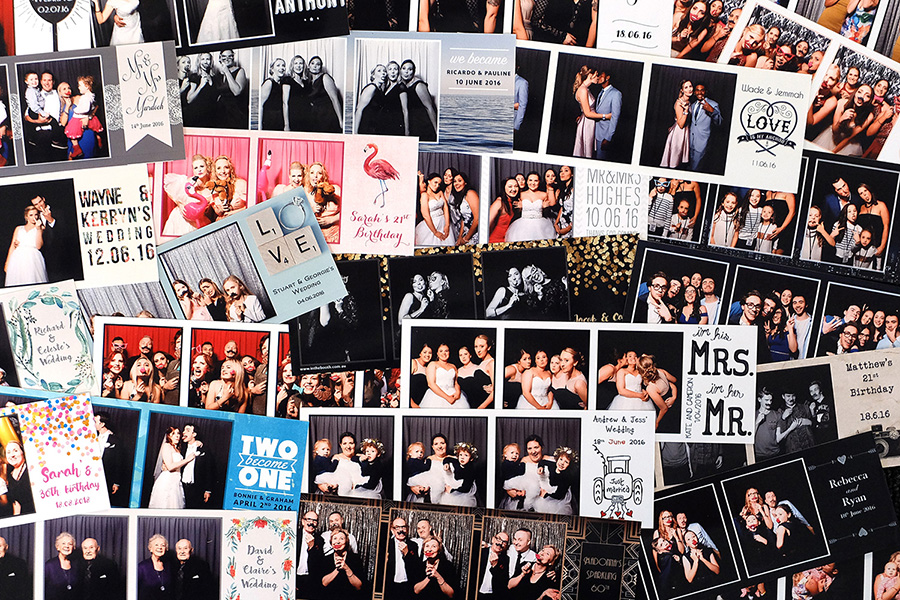 Our gorgeous acrylic frames are available exclusively to In the Booth clients via our online store. If you are looking for a timeless gift for your guests for your wedding, birthday party or corporate function that won't be thrown away (or eaten), look no further. Each frame can hold two photo booth strips back to back and has a seamless magnetic closure. The ideal display piece, our acrylic frames will keep your guests' memories safely on display for years to come. For corporate events, our acrylic frames will keep your brand front of mind long after your event has ended with your company logo proudly displayed on the end of your guests' photo booth prints.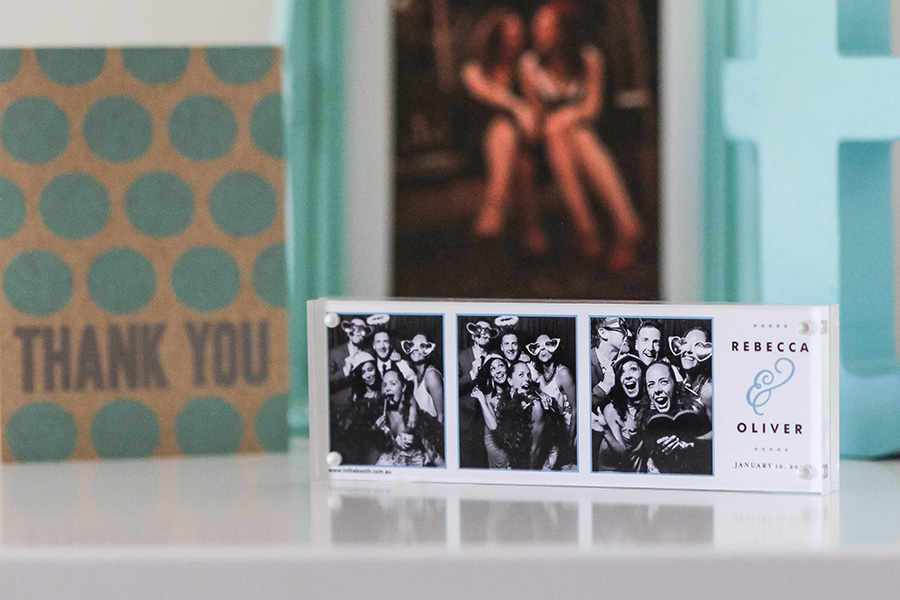 You can easily turn a pile of photo booth prints into an awesome display piece for your wall. Just because your special celebration is over, it doesn't mean you can't continue to relive the fun of your In the Booth photo booth hire via your photo booth prints for years to come! There are countless options available online or via your local homeware store or go for gold and DIY! Simply purchase a canvas, fabric and ribbon of your choice from a craft store. Lay the canvas flat on your fabric and flip it over. Fold the corners neatly and staple gun the fabric to the canvas frame – be sure to pull your fabric taut. Add ribbon and voila!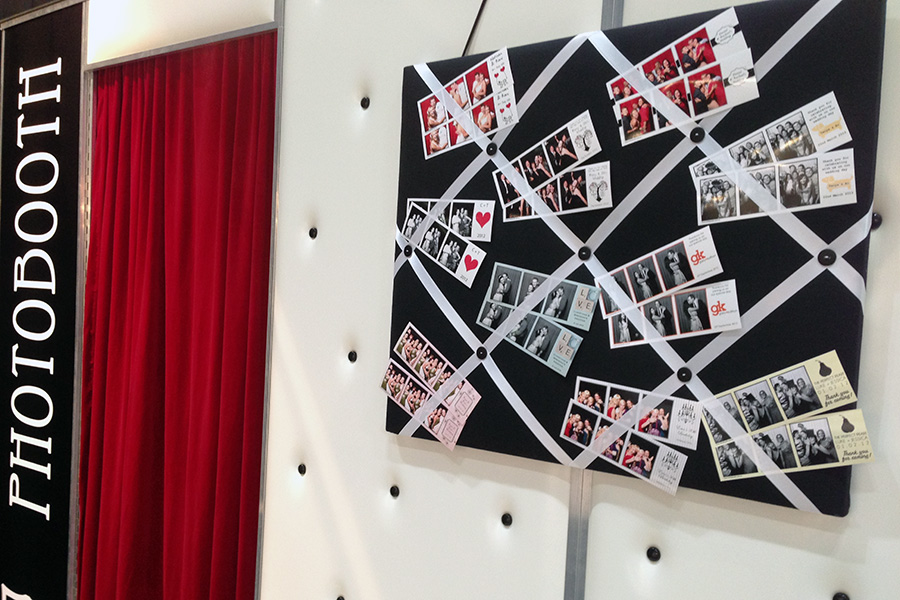 Photo booth prints and mini pegs are a match made in heaven! Simply zig zag some string or thin wire across a frame of your choice and secure. All that's left to do is add your photo booth prints with some cute miniature pegs and you're done! The options are literally endless with so many frames to choose from. You could select a pre-made frame or even make your own with some chunky pallet timber…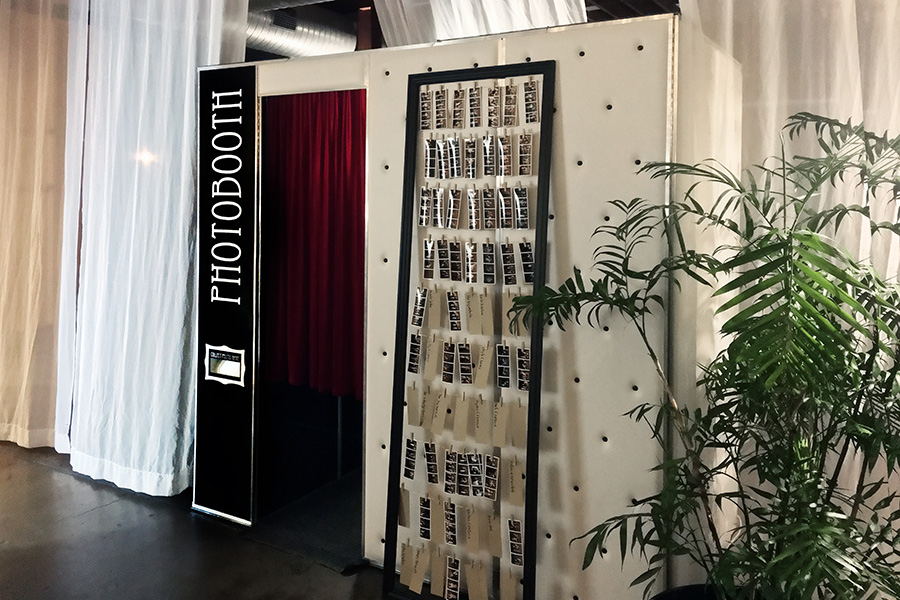 Our gorgeous canvasses are the perfect way to display all of your In the Booth moments in one place. Simply select sixteen of your favourite photos from your USB folio provided to you after your event and we'll do the rest! If you're guilty of leaving photos in the digital realm and never printing them, let In the Booth take care of this for you. Available in colour or black and white and measuring 16 x 23 inches, your professionally produced canvas will be an eye-catching addition to your home and your daily glance at your gorgeous photo booth images will be the perfect reminder of your celebration!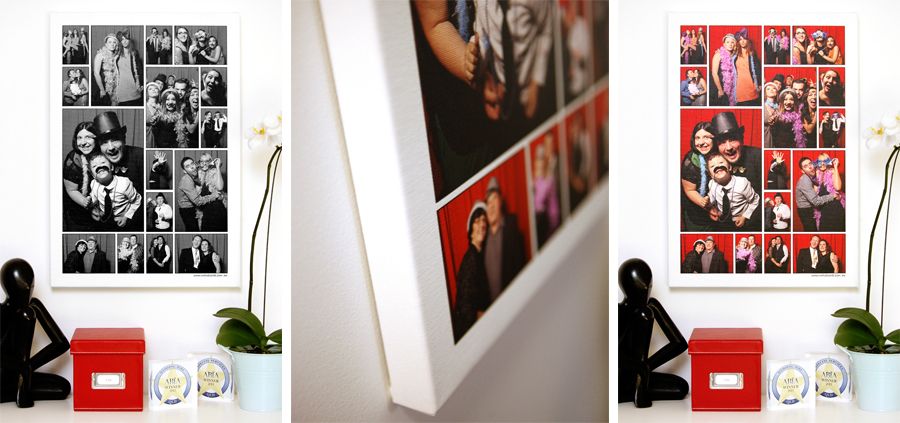 Photo booth prints falling off the fridge? Run out of magnets? Then you need this easy-as-pie DIY. Grab a 'bull dog' style clip, stack all your prints and secure with the clip. Leave it on your coffee table and see how long it takes someone to pick it up for a flick through 😉 It's the coffee table book for photo booth prints and you'll be done before the kettle boils for a cuppa. Imagine your next dinner party with friends and family when they notice your photo booth print project on the coffee table! They'll instantly be able to relive all the fun of your event as they have a giggle over the best photo booth moments.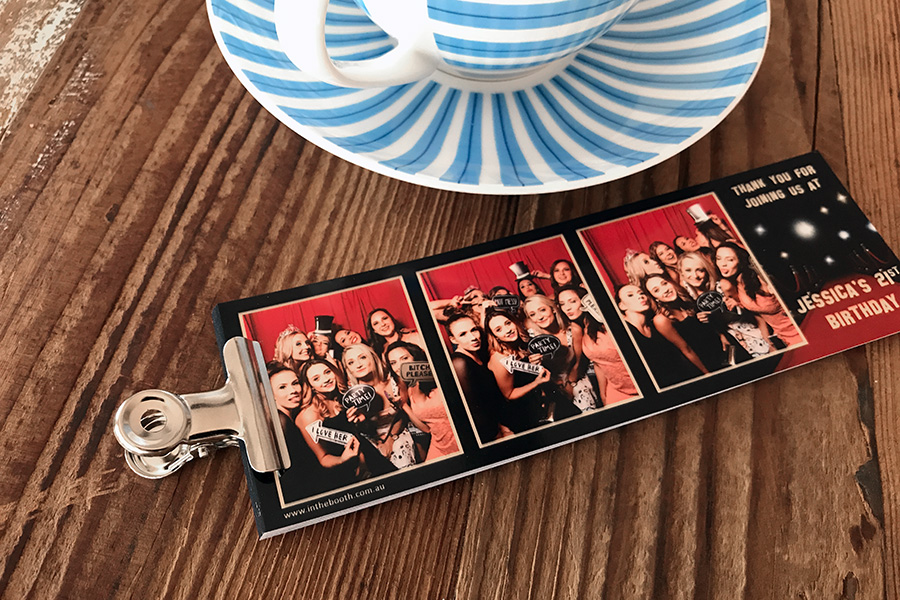 You need look no further than Google for photo display inspiration! With easy access to your photo booth digital files via the In the Booth app or our gorgeous client USB folios, all you need to do is choose your display item and upload your photos. From mugs and mouse mats to retro photo viewers (remember those?!) you're just a few clicks away from creating customised gifts for family and friends.