Photo Booth Hire with Green Screen
On 22 Nov | '2018
I scream, you scream, we all scream for Green Screen! So what is Green Screen exactly? Green Screen is basically some photography magic-y trickery! Guests are photographed in front of a green background. Using some super powered software, the green background can be replaced with an image of anything you can think of. Have you ever visited a major landmark and had a tourist photo where they insert the Grand Canyon or the Eiffel Tower behind you? Yep, that's Green Screen! Green Screen is only limited by your creativity. These days you can have organise Photo Booth Hire with green screen at any of your upcoming events.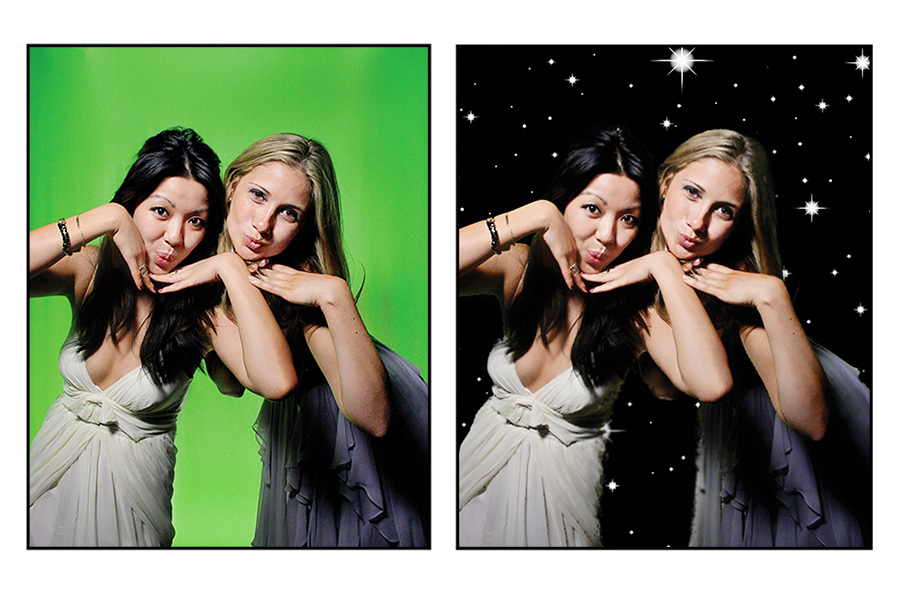 What Can Photo Booth Hire With Green Screen Be Used For At My Event?
Anything you like! Imagine a travel event where you would like guests to appear to "visit" exotic locations. Perhaps you have a circus theme for a corporate function and would like guests to be photographed in the big top. In our example, our client wanted guests to be able to dive down to the Great Barrier Reef! It's a lot of fun for guests and you just know those photo booth prints are going to end up on fridges everywhere – hello, market retention!

So the Green Screen is inside the photo booth?
That's right. In the Booth is one of the few services on the market that offer a Green Screen service within our enclosed photo booths. Green Screen doesn't require any additional space or equipment that is visible to guests through the booth. Our booths are exceptionally versatile in their design and you'd be amazed what we can do in there 😉 When guests enter the booth, all they'll notice that's different is a green backdrop where the usual backdrop would be. When they collect their photo booth prints…voila….the green backdrop has magically disappeared and been replaced with your chosen image. Your guests will truly get a surprise when they collect their instant prints from the booth!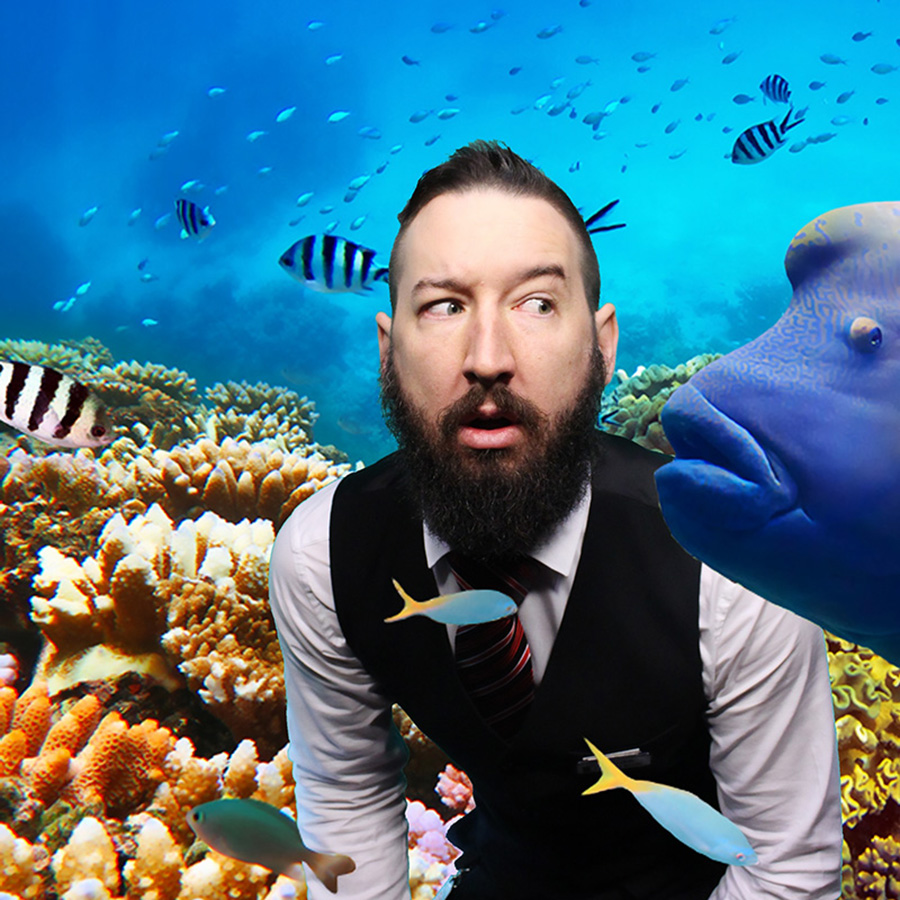 So….How Come Those Fish Look So Cool?
Thank you, we're glad you noticed! As well as Green Screen, we can 'layer' certain elements of the image as though they appear in front of the guests in the booth. For example, in the jungle theme you may like a snake to appear to drape down in front of the guests. It all depends on the image you choose. Further branding can also be incorporated into your print design which can include your event details or even be an extension of your Green Screen image. For example, your Green Screen images may have Guests standing in front of the pyramids and the print design could have a desert background. The overall effects will be stunning and limitless!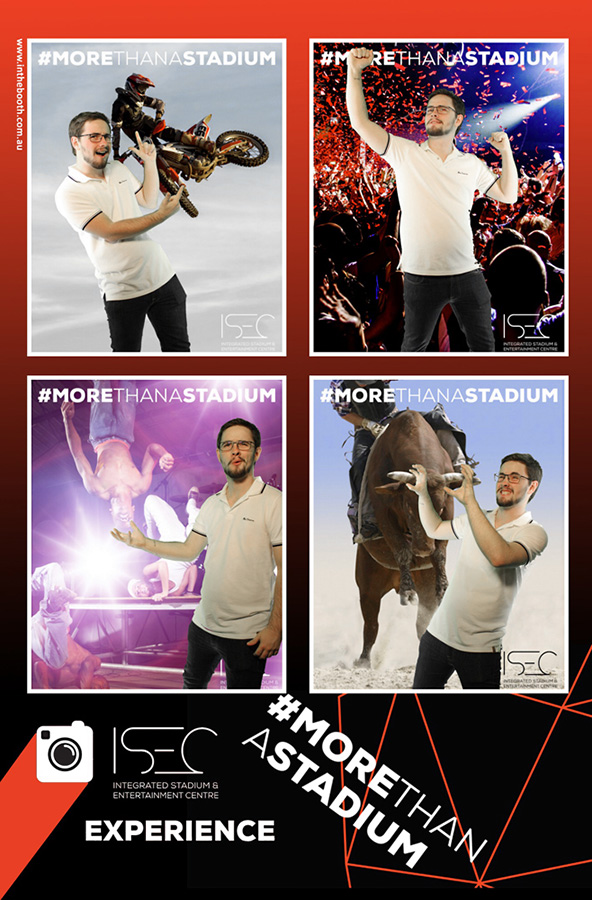 Does This Replace The Branding On My Photo Booth Print Design?
Absolutely not. In fact, the branding on your print design will just extend the end result. Image your Green Screen images and the design on the photo booth strip as a 'layered' effect that is only limited by your imagination. Corporate logos or event information are often included on the print design area. The In the Booth design team will work with you to make the absolute most of your photo booth print real estate.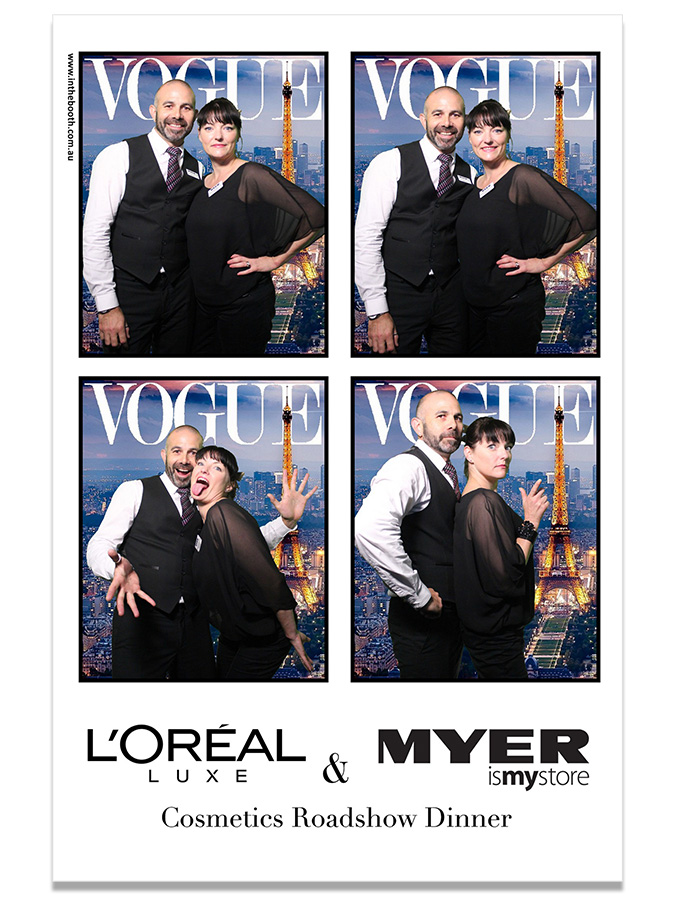 What Sort Of Events Have You Attended With Green Screen In The Photo Booth?
Anything and everything you can imagine. From travel expos that have guests 'visiting' multiple exotic countries in their photos from taking them under the sea or onto a Formula 1 race track or the cover of Vogue magazine – Green Screen is the boat to take your guests there. If you have a corporate function coming up that needs some extra pizazz, chat to us about your theme and what you'd like to achieve. You might like to transport your guests to the Gatsby era or to the Hollywood carpet. Maybe you're looking to reward your staff for the best year ever or ensure your brand graces the fridge of every guest at your event. We'd love to hear your ideas!