Photo Booth Franchise Opportunities
In the Booth are seeking self-motivated people that are passionate about creating exceptional special event experiences.
Interested in a photo booth franchise?
As a member of the In the Booth photo booth franchise network, you will be supported by a dedicated Head Office team. We have an unstoppable work ethic and a deep-seated passion for the wedding and event industry. Moreover after over thirteen years in an industry that bears almost the same age, we provide the systems and experience that is vital for success. Event industry experience is not essential, however a genuine heart for customer service certainly is!
Our Story
In 2007, Steve and Kate Austin became enamoured with photo booths. Kate heard chatter about passport style booths during her career as a professional photographer which piqued her interest! Whilst the concept was a lot of fun for guests, in contrast she knew commercial booths didn't provide the image quality that important celebrations deserve.
Subsequently Steve and Kate spent two years designing and perfecting their ideal booth. Kate's photographic and creative background together with Steve's event production and technical skillset laid the foundation. From humble beginnings sketched on a piece of paper, In the Booth finally snapped its very first photo booth photo of our young family in April 2009.
A new era in event entertainment was born
Our launch night in our garage consisted of friends and family snapping sample photos ready for our first bridal show. Some of our friends even showed up in their wedding outfits so we could capture bride and groom samples! Above all, we saw the walls of our photo booth envelope our family and friends in the timeless magic.
The iconic design and style of an In the Booth photo booth and the magic created by guests behind that velvet curtain remains unchanged to this day.
Australian owned and operated
We are very proud of our Australian designed, constructed and family owned story. In 2019, we were officially endorsed by the Australian Made and Owned Campaign. You will often find our family working hard alongside us be it at a bridal expo, yearly conferences or just helping out on the busy days. Collectively, In the Booth employs just under one hundred Australians as a network.
Our dedicated Head Office team proudly supports every member of the In the Booth network. We have an unstoppable work ethic and a deep-seated passion for the wedding and event industry.
It's not about the booth
While our photo booths themselves are important, they're really just a beautiful meeting place for everything that is In the Booth. Photo booth manufacturers love to claim the title of the fastest set up or the widest range of booth models. We have discovered our customers are not interested in either of those things during our decade in the industry. Above all, they are interested in high-quality photo booth experiences where magic will happen for their guests behind our curtain.
To sum up, In the Booth's mission is to be the most loved photo booth company. A photo booth by itself is nothing more than an empty box. It is our people and their unrivalled dedication to customer service excellence that are the heart of our company. They have allowed us to continue our purpose since our first booth snapped its first photo.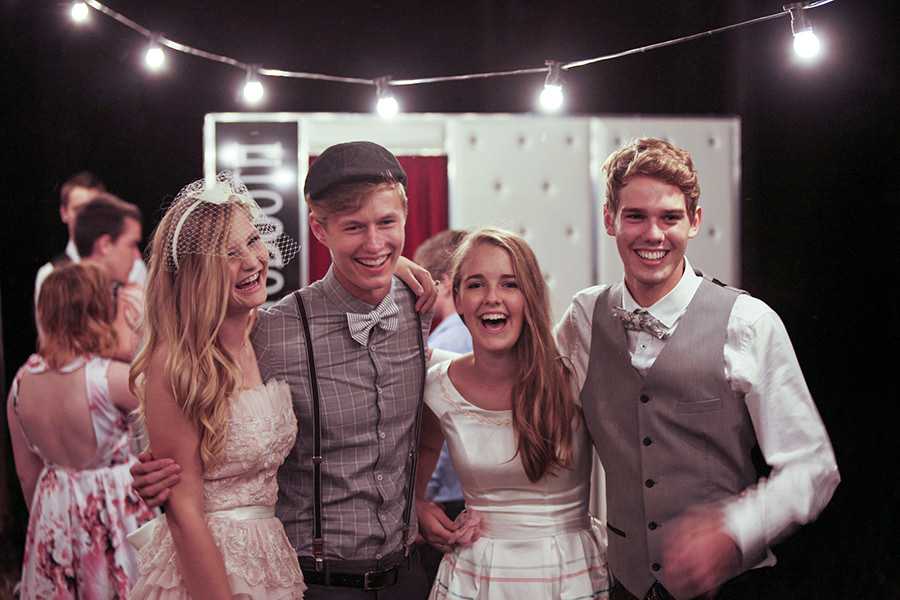 History of Photo Booths in Australia
Australia is littered with photo booths that fell victim to a trend.
The photo booth industry was in its infancy in Australia from 2007 until 2011. From 2012 until 2014, photo booth businesses sky rocketed from only a handful to hundreds. As a result, manufacturing companies began to meet this fledgling market and sold countless identical units into a newborn industry.
Fast forward to 2022 and consequently many photo booth businesses have ceased to exist or have changed hands many times. Business owners have attempted to hang out their shingle next to their neighbour who owns a photo booth identical to theirs. As a result, these two small business owners resort to competing on price with no distinguishable brand or unique product offering.
Proven business model and systems
An In the Booth photo booth franchise offers protected operating territories. Franchisees have the assurance that an identical competitor will not be opening their doors down the street. In contrast, In the Booth's focus remains on finding and thrilling new customers, not selling more photo booth machines.
We pay close attention to market shifts and customer desires however we are not reactionary to trends. We do not look over the fence at our competitors; rather we look internally to our own customers. In the Booth has developed every product success (and every product failure!) soley in-house.
Starting a business in 2022 is easy – staying in business, not so much. As the Australian photo booth industry enters its double-digit years, our longevity is not only thanks to our photo booths. It's mainly thanks to our people and our customers.
Franchising is a dirty word
The word 'franchise' has the bad habit of conjuring up thoughts of a soulless chain store with cheap imported products and lack-lustre staff. Come and work a day with us and let us show you first-hand how that couldn't be further from our daily truth.
Consequently it is essential for any franchise to have a common goal. Our company goal is to be loved by our customers. Rebecca, one of our 17,000 past customers, left this review on her experience with us:
"There is not one single other photobooth company out there that compares to In the Booth. They have amazing extra features like their video guest book, the app to download photo booth photos to your phone, and Guest Cam. Also the staff at In the Booth are very attentive and easy to communicate with. Our attendant Azaria was fantastic and even sought out people throughout the night to give them their photos that they had printed. Additionally several guests have said that they would really like to book In the Booth as a result of seeing them at our wedding and we have gladly passed on their information. Amazing service!"
You can read even more reviews just like Rebecca's here.
Customers first, photo booths second.
Without happy customers like Rebecca, there would be no In the Booth.
If there were no successful franchisees, there would be no In the Booth.
Should the franchisor not be successful, there would be no In the Booth.
Above all, we're looking for exceptional people.
Hardworking individuals who love the In the Booth brand make incredible business owners. In the Booth franchisees are at all stages of life, but all have support within our hardworking community.
An In the Booth franchise offers flexibility and exceptionally low running costs and fixed overheads. Passionate and motivated franchisees find their business offers excellent return on investment.
A franchise agreement is for a set term and can be compared to a business 'marriage'. During that period, In the Booth and the franchisee have a mutual agreement. The agreement is to operate under the In the Booth brand with excellence, integrity and quality communication. Likewise, franchisees have what they need for success under the banner of a trusted and recognised brand.
Finally, if this sounds like a whole lot of responsibility, a franchised brand may not be for you. However, if you have a commitment to excellence in service and business relationships, let's chat! We'd love to talk to you about bringing an In the Booth photo booth franchise to your home town.
Photo Booth Franchise Opportunities
Our People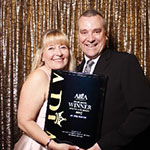 Michael & Debbie Lawrence
Great opportunities don't come around every day. After working as an attendant for three years with In the Booth we had a chance to become photo booth franchise owners. This was something we had always considered, but we never felt we had found the perfect project for us - until In the Booth! Where else can you help create fantastic memories, solidify friendships, build relationships and mold just the right mood for any occasion? Meanwhile we're now four years on. With the support and guidance of the head office team, we have grown the business into a lifestyle where we can enjoy time with the important people in our lives. Probably the best decision we ever made. 
In the Booth Adelaide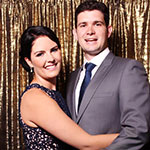 David & Katelyn Clark
In the Booth - where memories are made, fun is had and everlasting images are snapped! We have loved every minute of it. From brain storming with our fellow franchisees to the team atmosphere, the In the Booth environment is like no other. Additionally the support you receive from the head office team is wonderful. The high quality products and service we are able to offer our customers is world class. Moreover we were blown away with how technologically advanced In the Booth is. In other words, you won't find another photobooth company that even compares! It certainly has been one amazing ride and we can't wait for many more years of boothing to come!
In the Booth Sunshine Coast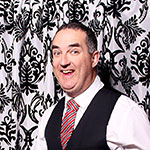 Ian Wickham
In the Booth is one franchise that truly lives and breathes putting the customer first. It was for this reason I chose to be part of this photo booth franchise network! For instance, having the administration all taken care of by head office means I can lead a busy life with a young family yet still grow my business too!
In the Booth Toowoomba
So you want to be a Boother?
1. Firstly, complete the enquiry form below to express your interest.
We'll have an initial discussion and talk about the further steps.
2. Secondly, we'll arrange a video meeting to get to know each other.
All parties involved in the business should be involved in the video interview.
3. Tell us more about yourself and your family.
Complete our detailed franchise questionnaire to be certain this is the right opportunity for you.
4. Let's get serious!
Should the initial interview and questionnaire be successful, you'll be issued with a Confidentiality Agreement. We'll provide detailed information about the opportunity you are interested in, including sales figures.
5. It's time to meet in person.
Let's discuss your potential business in further detail in person and answer any questions.
6. Let's get boothing!
It's time for you to experience the booth in its natural environment – in other words, on location at an event!
7. Legal documents and homework.
If all parties are happy to proceed with the franchise, we provide you with your Disclosure Document and Franchise Agreement. It takes several weeks to review all documentation and seek independent advice.
8. It's finally training time!
Training is provided in both your franchise location and at Head Office in Brisbane. You will need to set aside a minimum of two weeks of uninterrupted time to become well-acquainted with your new business.
9. Congratulations!
Finally, you're ready to provide exceptional In the Booth event experiences in your hometown!
In the Booth Franchise Enquiry
If you are excited by this opportunity and would like to find out more, please submit our franchise form below and we will be in touch. Enquiries are held in the strictest confidence, and will not be passed on or discussed with any other parties.