Need a custom photo booth for your product launch?
On 21 Feb | '2019
You've already done the hard yards of creating a fantastic new product, and now you're in the exciting (albeit overwhelming) stages of planning your product launch. Of course, you want it to be a success! You want your guests to enjoy themselves, but you also want to create a lasting impression and build sales momentum. What better way to do both then to invest in a custom photo booth hire for your product launch?
People love photos!
It's no secret that people love any opportunity to snap a great photo for their social media profiles. For a more intimate invite-only event such as a cocktail launch party, a photo booth will add an element of entertainment for your guests throughout the night, as well as create many shareable moments for social media. For a public launch event, such as in a busy shopping centre, a photobooth that is free to use will help gain the attention of those passing by, and encourage them to stop for a photo and have a look at what you are offering.
Custom Prints with your Logo
So you've got their attention and they've snapped a few shots inside the booth – what now? How does this relate back to your product and your brand? All of our corporate photo booth hire packages include a free custom print design. Our design team can work with you to create something you will love, using your logo and other graphics or elements that tie in with your product and theme. That means that every person that attends your event or stops by your store can go home with your logo and business details on their photo booth prints that they will keep on their fridge door for many years to come!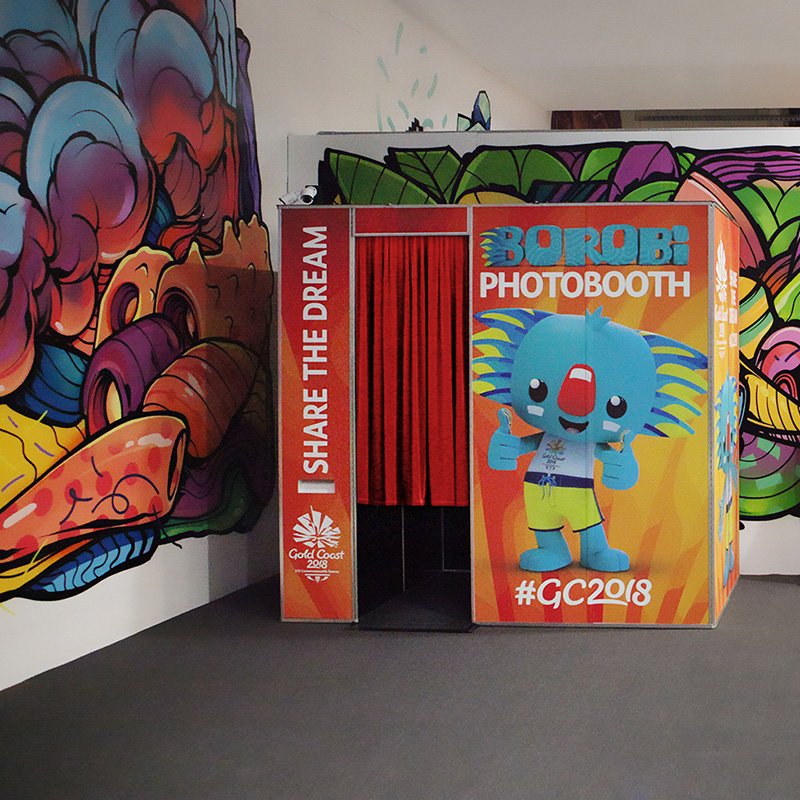 Custom Photo Booth Branding
We can provide a number of options for custom branding of our booths! For the most economic option, we have single panel branding, or you can go the whole hog with full external booth branding! This adds even more real estate for some eye catching branding!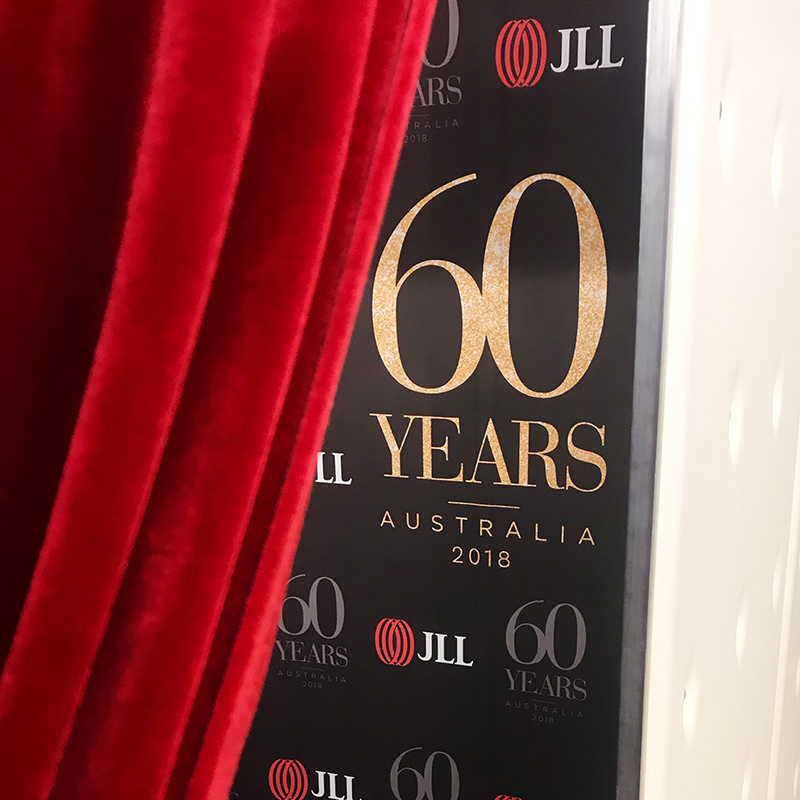 Custom Backdrop
That-s right – there are even more options to customise your photobooth! We can provide a fully customised printed backdrop inside the booth. A popular and effective choice is to have your logo tiled all the way through so no matter how many people cram into one booth shot, your logo is sure to be seen!
Something Extra
Want something a little more 'out there'? Our green screen option is just what you need to really wow your guests! We can superimpose your guests in front of any background you choose! You get total control of what images you would like used for green screen – whether it is a famous landmark, outer space or you want your guests to be able to pose with your brand ambassadors that can't be present- we can make it happen!
USB Folio
While you're still recovering from the weeks or months of preparation and waiting for the dust to settle following you big launch, you'll receive a stunning USB folio from us. This will include all of the high resolution images taken at the event, as well as the print files. You're free to then share these on social media, your website and in your next newsletter.
Social Media Sharing
To gain even more momentum, running a social media competition can really spread the word far and wide! Using our exclusive In the Booth app, your guests can download the digital copies of their images straight to their phones! We know they'll be posting these to social media anyway, however a competition can really boost this and ensure your business gets a mention in each and every post. To enter the competition to win 'X' prize, have your guests upload their favourite booth images to the social media platform of your choice using your unique hashtag and also tagging your business page. Suddenly, your brand will be in front of all of their friends and followers, too!