Photo Booth Hire in Melbourne & Western Suburbs
In the Booth is the most loved photo booth hire company in Melbourne, as rated by our past customers. We love attending events in the greater Melbourne area from Geelong all the way around to the Mornington Peninsula. In general, In the Booth Melbourne West focuses on events in the Melbourne CBD, northern Melbourne and out west to Geelong and beyond. Coupled with our team mates, In the Booth Melbourne East, who cover the eastern suburbs and the Yarra Valley.
We've been attending incredible corporate events, weddings and parties in Melbourne since 2011. By and large our booths offer the perfect mix of classic photobooth beauty with their timeless retro exterior. Industry leading software sets our booths apart and makes operation by your guests a breeze. Additionally, social media sharing is at our guests' fingertips through our integrated free mobile app. Custom branding options allow the booth to be completely themed for brands that need their marketing to hit a home run.
If it's multiculturalism and eclectic culture you're after, look no further than Melbourne. We are a city that loves to be out celebrating life at our iconic markets or festivals. On the whole, Melbourne and its surrounds offer a wide variety of venues for a kaleidoscope of events. Our distinctive photo booths complement all of these with aplomb! Summing up, we love what Melbourne has to offer and are committed to providing the highest standard of photo booth hire available. We hope you'll take a moment to read about what we can bring to your event.
Meet the Team
In the Booth has been in the Melbourne photo booth hire scene since 2011, and we love what Melbourne has to offer the event industry. From hidden laneway bars to the bright lights and celebrity spotting at the Crown, and everything in between, the venues of Melbourne truly cater to any vision for your wedding or event.
In short, helping you create memories in our photo booth here in Melbourne makes us feel special. We always smile seeing brides and grooms enter a room of friends and family for the first time as a married couple. We'll probably be there capturing the moment on our Guest Cam!
When we're not busy with Melbourne CBD photobooth hire, we love to explore the vast array of Melbourne's cultural scene options. Stage events at the Princess, dinosaurs at the museum, or finding time for a quiet getaway at the National Gallery of Victoria are all on our to-do list.
All things considered, your priceless moments are the ones we don't want to miss. In the Booth clients in every Melbourne suburb have relied on us and we can't wait for you to get "In the Booth" too!
For any Melbourne and surrounds photo booth hire enquiries, please get in touch and we'll get back to you shortly!
Love for the Booths
Feedback from our clients and guests is so very important to us. Here are some snippets of what some lovely people have had to say...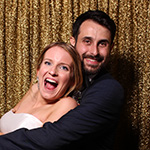 In the Booth was such a hit! Such a good decision. Our guest book we walked away with at the end of the night was so amazing and showed how much every guest was loving the booth. The fact that the booth is closed really helped to make it seem more appropriate for our venue space and gave people the freedom to feel extra silly and pull people in who otherwise may not have used a photo booth. Guest Cam was awesome for getting selfies and other action shots immediately printed out - so cool. Brett the attendant was so friendly, helpful and polite. It was a wonderful experience from start to finish. I spent a long time before my wedding looking for a photo booth and I would absolutely recommend In the Booth.
Eryn & Leon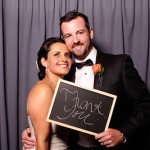 Thank you so much for the sneak peek reel. It was awesome and we're very excited to see all the snaps! Thank you for providing such an amazing service. We used the photo booth as our bonbonniere and we were just thrilled with how popular it was on the night! We have had nothing but great feedback from our guests. It made our wedding a definite stand out. I was surprised with how easy it was to use. We had tables of 10-12 guests able to fit in to take table shots which was fantastic. The attendant was very accommodating and polite, even when dealing with some of our merrier guests! After seeing how much our friends enjoyed the booth, it's clear it is exceptional value for money. Thank you again for making our wedding so memorable for us and our guests.
Brad & Andrea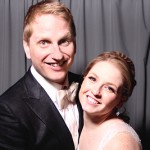 We have been to weddings before that have used photo booths but in contrast, In the Booth was by far the best. From booking with you guys and the ease of picking the backdrop and options, to the set up and appearance of the booth and how it was run was just perfect for us. Everything was communicated to us beforehand really well. Whenever we looked over to the booth there was a huge line to get in, lucky for us we got straight to the front every time! The photo booth guest book is a fantastic idea. It was amazing to go through all the photos the next day. So great because you don't get your photos back for a while so to have the ones from the booth is fantastic. It really shows peoples personalities and how much fun they had. We recommend you to everyone we know.
Hayley & Daniel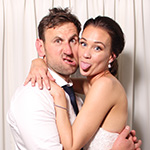 Highly recommend In the Booth Melbourne West for your wedding. Absolutely amazing!! This was a last minute extra that our very generous brother in law organised for us! It was such a hit with all ages. The night just flies by and our awesome attendant came and got us when the booth was free to get some quick snaps when we had a spare minute. The quality of the photos is amazing. Even better, you can download all the images onto your phone and have them stored forever. We got a complimentary guest book which our guests could paste their photos in and write next to it. Our beautiful USB box arrived shortly after our wedding with a card, some lollies and all of our images from the night. So many laughs and memories we'll have forever. Can't go wrong with In the Booth!
Alicia & Enes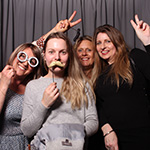 Firstly, a big thank you for making our night another great success. Brett, you delivered with exceptional service as you did last year, thank you. I received positive feedback throughout the evening from our staff and most importantly from our CEO and Director. The function coordinator at the Botanical also thought you were very impressive. I'm sure we will see you again next year!
Suzanna, Provincial Home Living
We would like to thank you very much for your services at our wedding. The photo booth was a massive hit and constantly had people in it. As our photographer did not focus on capturing guests at the reception, we would not have had guest photos if not for the photo booth. We now have a book full of fun ​memories from our special night and I loved that guests could take a photo home too. The presentation and delivery of the USB after the wedding was a very special touch too.
Jacek & Rebecca
Just a quick email to say thank you for supplying our photo booth at our wedding. The booth itself is so fantastic and our guests had so much fun utilising it on the night! Jase and I received the USB in the mail yesterday and we are really enjoying going through the photos of everyone on the night. We will definitely be sure to recommend you to family and friends without reservation!
Christie & Jase
On the couch with In the Booth Melbourne
What is it you love about providing Melbourne photo booth hire services?
Melbourne, the Mornington Peninsula, the CBD, Geelong even country Victorian towns, all offer so many fantastic wedding and event venues that complement our booth. When guests arrive in the decorated room to see the views, decor, table settings and of course our photo booth, Melbourne locals feel so special. What's more we are proud to stand tall beside the photo booth and welcome them inside for memory making fun!
Tell us about some uniquely Melbourne touches you have seen at an event?
We love the multicultural lifestyle in Melbourne. Especially as many old traditions are given life by the new generation of brides and grooms. Big bands playing to European dances that encourage the entire room to celebrate with family and friends. It's a real sight to see. Or the rooftop event that a local startup team has to celebrate making a business breakthrough. So diverse, yet so very Melbourne. Without a doubt, photo booth time will capture it all.
What is the most common question you get asked about the photo booth service you provide?
When guests ask us to get in the photo booth. Melbourne, beware, we love to get in the booth, so be prepared for some real photo booth action shots with your attendant!
What are your essential tips for organising a fantastic event?
Firstly, focus on the memories. We think guests want to have something special to remember. So many photos now live on our device and we often forget to enjoy them after the event. With a photo booth, Melbourne brides and their guests have a keepsake that is put on the fridge or kept in their purse and the moment can be relived over again. If your printed strip is not "fridge-worthy", you'd better jump back in the booth and try again!
When in Melbourne you must…
Visit the CBD laneways to explore the street art. Sam and the girls are avid street art fans and love to discover new techniques used by street artists. Stencilling is her favourite at the moment and you can see some great examples in the likes of AC/DC lane, just off Flinders Lane. There are even organised tours if you really want to further your experience!
Popular Spots