School Events
Why a photo booth for school event hire?
There's nothing quite like a photo booth pumping out prints at a school event hire! It's the entertainment that transcends all ages at any event. For this reason, it's ideal for students, parents and teachers alike. Without doubt, school events are hectic environments. In any case it's not uncommon for school functions to rely heavily on volunteers. Therefore, entertainment options need to be inherently simple to organise and use. Photos from school events also need to be easily accessible for the same reason. In order to solve those problems and more, In the Booth supplies school event entertainment and school event photography all rolled into one!
Our booths are exceptionally easy to operate and a queue will form as soon as it opens. To that end, students and parents will handle the booth as easily as they handle a smart phone! All students from preppies to seniors love the photo booth. All things considered, there are few entertainment options offering such widespread appeal! Equally important, parents can take home an instant memory of their child's school day celebrations.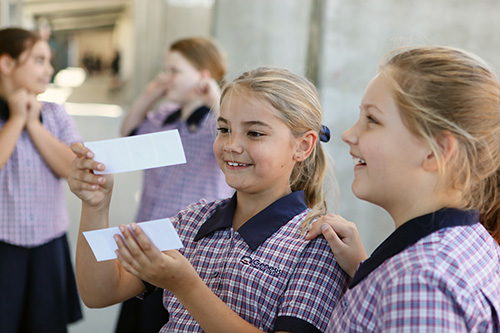 By and large, our booths run flat out at every school event hire we attend. Fetes, Grandparent's Day, Under Eight's Day, School Disco, Year Six Graduation or Staff Appreciation Day – they're always a raving success! Students, parents and staff just can't get enough of the booth. They capture priceless school day memories and give everyone wholesome, family-orientated entertainment. On the whole our fully automated booths and trained attendants mean it's the most hassle-free entertainment your school has seen!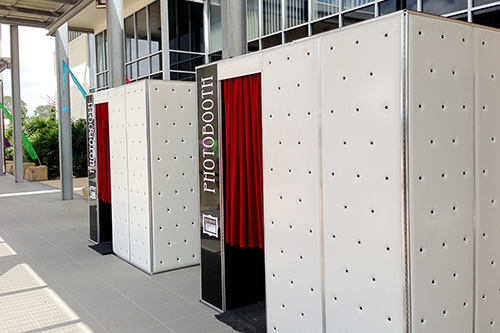 Why a photo booth
for school events?
You may like to use the booth purely for event entertainment. However it's also an awesome way to make sure you have professional quality photos from your school celebration. The inclusion of our unique app means parents and grandparents can download their photo booth memories instantly, so your school won't have to manage distributing photos to families afterwards. No matter the event, the booth always has a queue at school functions!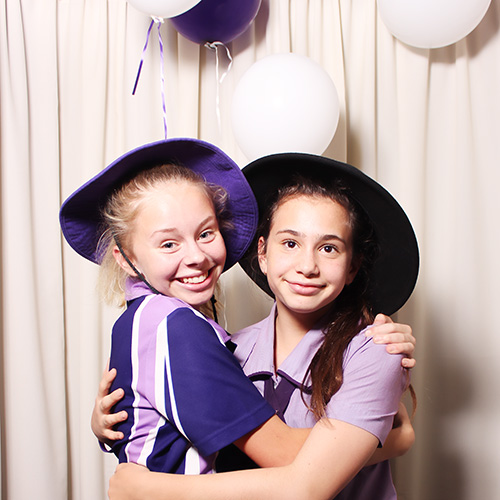 Can my school use the
photo booth for fundraising?
Absolutely. We have attended countless school fetes and P&F fundraisers with our booths and they are always a roaring success. In general, the booth is incorporated into the event ticket price or ride armbands, or your school may prefer a 'pay per go' option. If you have local businesses sponsoring your event, you may like to invite a specific photo booth sponsor. We can include your sponsor's details on the instant prints to ensure great market retention for their business in the local community. We know what it takes for a successful school fundraiser, so please don't hesitate to talk to us about what you'd like to achieve!
Custom photo booth prints for your school
Our designer will work with you to create the ideal instant print design for your school's function. Perhaps you have a special theme for your senior formal or a fundraising cause you would like to promote. Finally, choose from our gorgeous range of backdrops to complement your print design as well! Students, staff and parents will treasure their photo strips for years to come. Check out our Pinterest boards for even more event inspiration!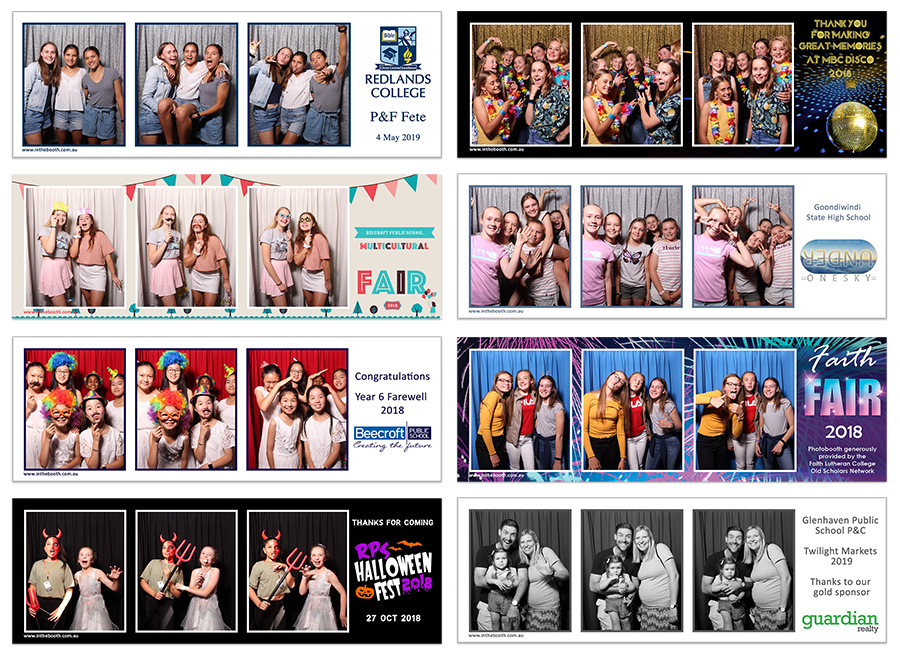 McArthur, Whitsunday Anglican School
Thank you very much for everything. The photo booth was a HUGE hit again this year and the photos are fantastic, it's so great to get some fun and cheeky photos and the students absolutely LOVED it (there was a line up the entire night!). There were no issues at all everything was absolutely fantastic. Thanks again!
Samantha, Mater Christi College
Our 50th Community Reunion was indeed successful and the addition of the Photo Booth contributed to this significantly. On behalf of the team at Mater Christi College thanks for being involved in our milestone celebration.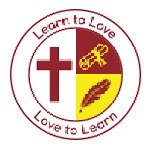 Maree, St John's Catholic Primary School
Firstly, please feel free to share my words with everyone because I want them all to know how fantastic the photo booth is! Daryl hosted the booth recently at our Year 6 Graduation Dinner. It was a big success with all the kids and their parents. All the kids enjoyed having photos taken with each other and their teachers, and even the parents enjoyed themselves having family photos, and photos with departing parents who they aren't likely to see again. The photo booth really added to the enjoyment of the evening and we all walked away with photos and memories. Daryl was a great host, encouraging everyone and giving the kids ideas for different photos. He was a lot of fun and interacted easily with the kids and adults in the room. I would recommend In the Booth Mackay for any event!
Kristie, Parkdale Preschool
Just a quick message to thank you again for attending Parkdale Preschool's 70th Birthday Gala. Our event was a great success. It was attended by 115 people and raised over $9000 for our kinder. We are pleased to report that your generosity was a leading factor in creating a fun and contributory environment. The feedback from our guests was hugely positive and Alex was a fantastic representative for In the Booth.
Garth, Grace Lutheran College Swimming Club
Just wanted to drop you a note thanking you for your wonderful service. Hayden was great at our Trophy Night on Saturday evening. From all reports, as well as the constantly long queue, it was certainly a hit! The fabulous photos are still being uploaded to Facebook by everyone! No doubt we will be getting you back again next year which will be for our 20th Anniversary. Thanks again, and look forward to chatting to you again next year.